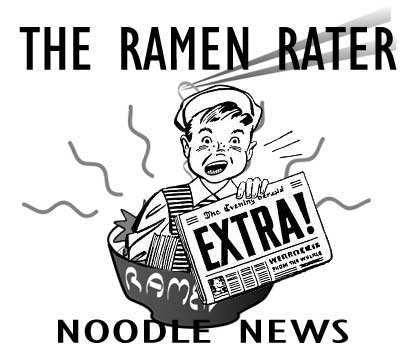 Welcome to the 15th installment of The Ramen Rater Noodle News!
Here's a slew of stories I found online in the past week or two – enjoy!
Jakarta Globe – Envoy to Indonesian Businessmen: Russians Like Instant Noodles – Indonesia – Link

Focus Taiwan – Tingyi Invests US$220 Million To Expand Instant Noodle Capacity – Taiwan – Link

Jakarta Globe – Culinary Bonanza: Can Your Tongue and Stomach Handle These S&M Cuisines? – Indonesia – Link

tasty food lovers – Instant Noodles Omelette – ? – Link

nerdfury.net – Low(er) Sodium Instant Noodle Options – USA – Link

my San Antonio – 'Incentives' Aren't Attracting Living-Wage Jobs – USA – Link

The Times Of India – Delhi University: Few Seats But Food Aplenty – India – Link

Project Upcycle – Four Packs Of Ramen And A Box Of Mac & Cheese – USA – Link

Farm Weekly – South Korea Uses Its Noodle – Australia – Link

The Travelling Hungryboy – Teumsae Ramyeon in Myeongdong, Seoul – Korea – Link

Sun Star – Monde Nissin To Set Up Manufacturing Plant In Davao City – Philippines – Link

A Spark Of Moonlight – Eating Ramen for the First Time – ? – Link

The Japan Times Online – A Ramen Line Up Worth Dipping Into – Japan – Link
Products cooked according to package instructions. Product reviews done prior to adding any additional ingredients.