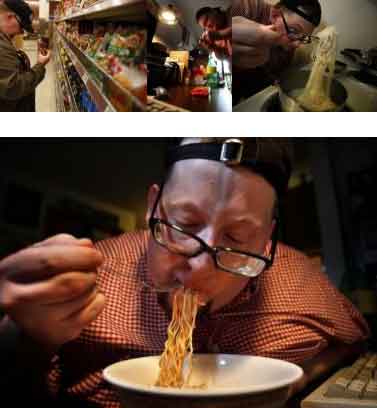 Since I was a small child, I have enjoyed instant noodles. I started out with what every other kid in the USA has – Top Ramen. Then, they came out with something called Roasted Ramen, noodles that already had the seasoning within them – no packet!
These were off the market soon though and that's when everything changed in my instant noodle world. My parents took me south to Seattle and we went to a big Japanese grocery in the heart of the International District. As it turned out, the Roasted Ramen I so enjoyed actually was how they marketed Chikin ramen – Nissin's first instant noodle in 1958, of which they had a great quantity.
What I noticed (I was about 12 years old) was that there were a ton of different varieties of instant noodles to be had there; with different colored packaging and strange foreign writing I couldn't begin to understand.
My folks let me sample a few and it was fun – some were almost impossible to cook; what were the instructions saying?
I tried some from anywhere and everywhere. Then I got kind of bored with it and left it alone. In 1998, I started eating instant noodles again – I found Indomie's Mi Goreng Satay and was hooked. I would get bags of the stuff and give lots of friends saying 'you've got to trty this stuff.' I had been trying my hand at webdesign for a few years and one day I thought I'd start a little website with a table of noodle varieties and a picture and a link to the company that made them and a review with one to five stars. This went on until I reached around 50 some varieties in 2003 or 2004. I then got on the Atkins diet, a diet that was certainly not ramen-friendly and decided since I enjoyed the reviewing that I should continue it. Saucerater.com was born out of this and I reviewed a total of 250+ varieties or hot sauce. The Ramen Rater was on the backburner.
Fast forward to 2010. Found the woman of my dreams, true happiness and a spark of interest in instant noodles again. I was living in a converted garage in Anacortes, Washington and bought a little single burner plug-in dealy with which I did a few reviews – here's one of them.
My future wife and I moved to Edmonds, Washington shortly thereafter. What really made this site happen was WHERE we moved to. I live within walking distance of two rather large Asian supermarkets: a 99 Ranch and a Boo Han Market. Plenty of instant ramen noodles to kickstart this thing into overdrive. Here's one of those early reviews.
Nowadays, I get noodles from all sorts of places – people send me them personally, online retailers and distributors have sent them, and even big instant noodle corporations have started sending me noodles. As of writing this, I've reviewed 715 unique varieties of instant noodles from all over the globe.
People often ask me 'doesn't it get boring eating the same instant noodles all the time?' I wouldn't know – I eat a different one every day.
– Hans Lienesch
April, 2012