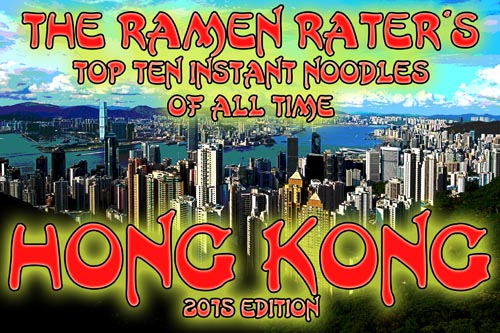 I thought to myself recently that it would be great to end 2014 and start 2015 with a new top ten list – but from where? A couple places came to mind, and Hong Kong sounded like a good one. I've found a lot of excellent instant noodles that have been from Hong Kong. Been hoping to see more arrive here in the United States, but many of the ones on this list I've found up in Canada. I would definitely like to reach out to instant noodle companies in Hong Kong to take part in Meet The Manufacturer; there's not been a Hong Kong participant yet! With that, here's the top ten instant noodles of Hong Kong – the best and most memorable – from the last 1,553 reviews. Enjoy and Happy New Year, Hong Kong!
#10: Nissin Demae Iccho XO Sauce Seafood Flavour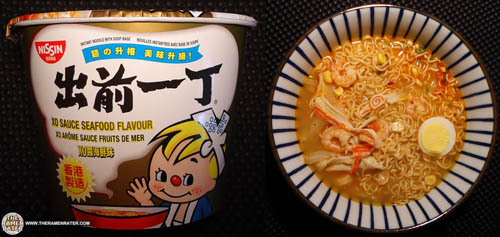 The noodles are pretty good with a very standard gauge and quality. The broth however is quite nice. The XO sauce gives it a very rich seafood flavor that is most enjoyable and hearty. The inclusion of a decent amount of veggies and narutomaki rounds things out well. Original review
#9: Four Seas Seaweed Hot & Spicy Instant Noodle (Mushroom & Beef Flavour)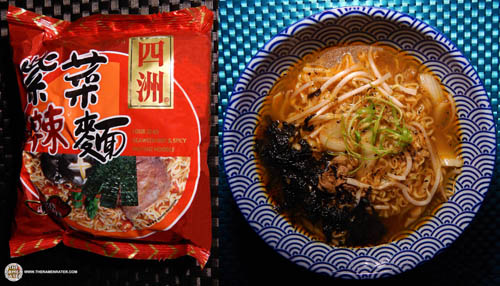 The noodles were pretty good – nice gauge and a good mouthfeel. The slight crumble gave them a kind of nice texture with the broth. The broth has a definite spicy beef flavor and then the mushroom flavor which is kind of in the background and very good. As for the seaweed, it really complimented things quite a bit and made for a fitting garnish. Original review
#8: Doll Instant Noodle Pickled Vegetable Flavour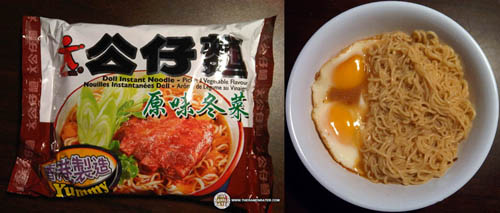 Doll's noodles always look very nice – not bleached white but a nice warm rich wheaten yellow color. They are excellent as far as texture and flavor go too.  The broth was perfect – not strong but not weak. It was just right. I added the two fried eggs and all together this was a fantastic bowl of noodles for a early evening nosh while studying for a computer tech certification. Original review
#7: Doll Instant Noodle Spicy Tonkotsu Flavour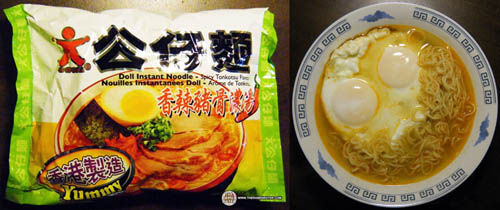 First, the noodles are very nice, high quality and very tasty. The broth has a nice flavor to it and was perfect. I really like Doll products and this is no exception. Original review
#6: Nissin Cup Noodles Seafood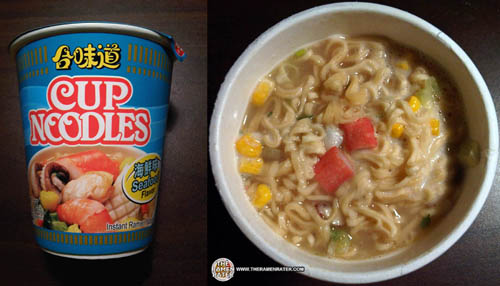 So first off the veggies rehydrated quite nicely. Also, there are bits of seafood in there – real ones! Apparently its pollack, but also there is nondairy creamer in it! Weird… The noodles are great, the broth is great, everything is great! Original review
#5: Nissin Cup Noodles Seafood Curry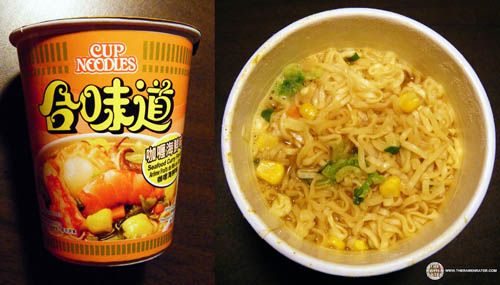 The noodles steeped perfectly. The vegetables and little bits of dehydrated fish came out just perfect, and the broth was very curry. My only complaint was that the curry flavor overwhelmed the seafood taste so that there was really none at the end of the day. I really liked this one though. This one was in the 2013 Top Ten Cups list, the first for Hong Kong. Original review
#4: Doll Instant Noodles Artificial Chicken Flavour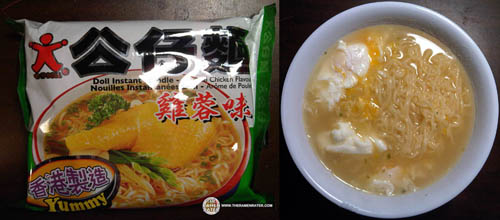 This is absolutely spot on – possibly the best chicken instant noodle I've ever had – here's why. The noodles are in the way that Doll's usually are – great texture and firmness, not bleached but golden. The broth is very hearty, and flavorful. Original review
#3: Nissin Demae Ramen Sesame Oil Flavour Noodles With Soup Base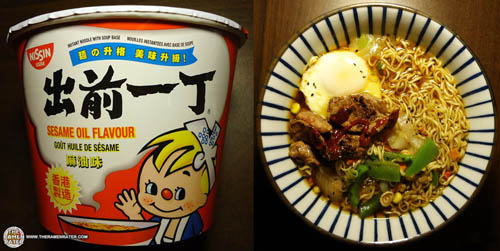 The noodles are neat – thin and very elastic with a great consistency – some of the best I've ever had from a big cup. The broth is quite good too – a nice sesame flavor and rich body. The vegetables were excellent as well – great re-hydration and quality and the narutomaki was plentiful. Original review
#2: Fuku Superior Soup Instant Noodle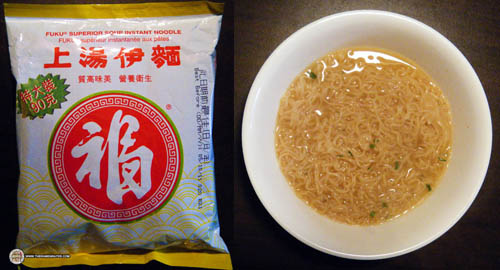 This stuff is EXACTLY like Nissin Chikin except it has a little extra powder with it! Originally, my favorite noodles were Nissin 'Roasted Ramen,' a product they came out with in the USA when I was a kid. They stopped making it so we hunted for it and they were able to help us out at Uwajimaya in Seattle where they clued my folks in about the Nissin Chikin. This is exactly like that stuff and I'm quite happy. Original review
#1: Nissin Demae Ramen Shoyu Tonkotsu Artificial Pork Flavour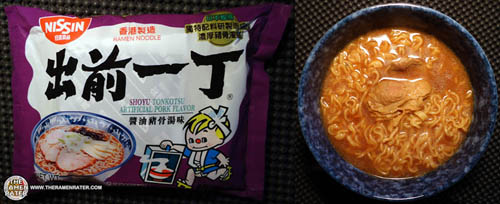 The noodles are great – gauge and chew are very good. The broth is wonderful – has a very rich pork and soy flavor that was well balanced and deep. Hooray for Hong Kong! Original review
Products cooked according to package instructions. Product reviews done prior to adding any additional ingredients.