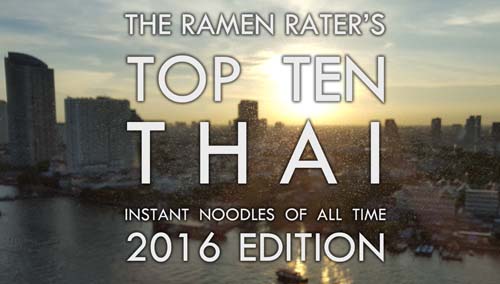 The Ramen Rater's Top Ten Thai Instant Noodles Of All Time 2016 Edition really has been a long time coming. After trying over 150 different Thai instant noodles throughout the years, I thought it was about time for a Top Ten Thailand list. If there is one thing that is ubiquitous when Thailand is mentioned, it's tom yum – whose flavors figure strongly in this list. So print out a copy and run to your local Asian grocery and get some tasty Thai noodles! Hopefully there will be a 2017 edition of Top Ten Thai Instant Noodles as well – if you are an instant noodle manufacturer in Thailand, please contact me about doing a spotlight of your products! Also, I've decided that I will be sharing the add-ons I use in each variety here – note that all tasting/reviewing is done PRIOR to anything being added out of fairness. Hope you enjoy the first ever The Ramen Rater's Top Ten Thai Instant Noodles Of All Time 2016 Edition.
#10: Mama Instant Noodles Moo Nam Tok Flavour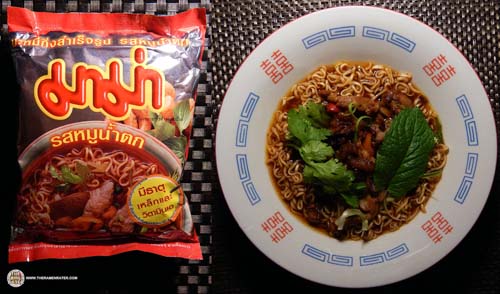 Added mint leaf, green nira, coriander, lettuce, and sauteed pork, red bell pepper, sweet onion and garlic with a dash of soy sauce. The noodles came out just perfectly as they usually do – they don't get too full of water and have a very nice gauge and feel. The broth has a spicy and heavily spiced flavor with some heat to it – very rich and strong flavors. I liked it a lot Original review
#9: Wai Wai Quick Zabb Tom Yum Shrimp Flavour Instant Noodles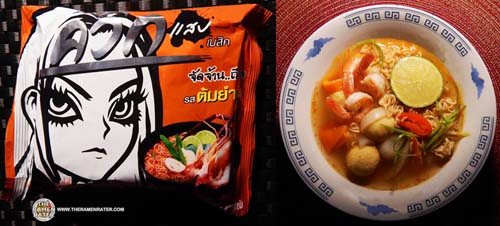 Added shrimp, fishball, sliced green onion, bell pepper, sweet onion and lime. The noodles are just right for tom yum with a nice texture and crumble. The broth is a slap in the face of strong spiciness and has a very nice citrus and shrimp flavor as well. The spiciness is almost 'crisp,' if that makes sense. Original review
#8: Little Cook Instant Noodles Shrimp Tom Yum Flavour Cup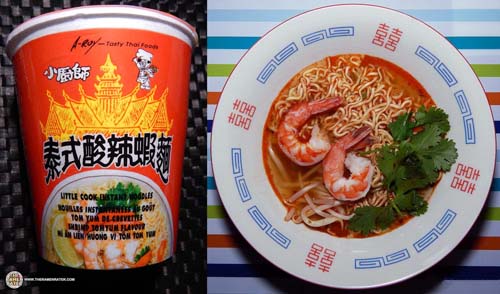 Added mung bean sprouts, shrimp and coriander. The noodles were thin as you would expect in most cups with a bit of a crumble to them. The broth was extremely good – everything was there – heat, lemongrass and a good flavor. Original review
#7: Mama Instant Cup Noodles Seafood Pad Kee Mao Flavour Cup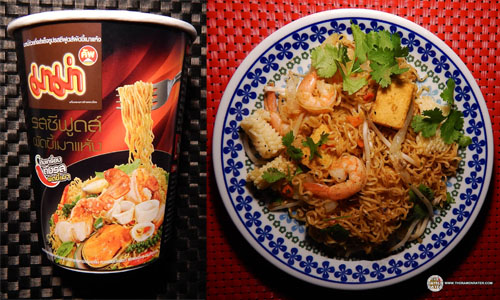 Added coriander, sliced squid, mung bean sprouts, sweet onion, shrimp, seafood flavored tofu and Jane's Krazy Mixed Up Pepper seasoning. The noodles are thin and light with a decent little bounce to them. They aren't like the ones you'd experience in MAMA Tom Yum packs that are pre-seasoned with a nice crumble, but different. The flavor is really quite good and can be summed as kind of a sweet seafood taste with a great bite of spiciness and then this lingering flavor from the holy basil. It's got a really different flavor I wish was present more often instant noodle varieties. The dehydrated carrot and seafood hydrated very nicely. This was a very pleasant surprise! Original review
#6: Yum Yum Premier Bowl Instant Noodles Suki Flavour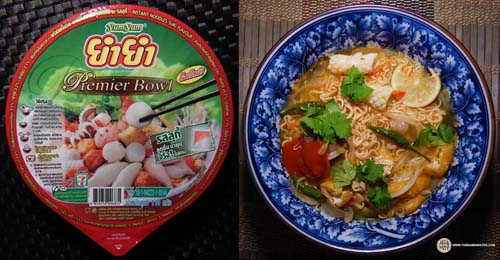 Added green Thai chillies from Dwayne B., Salad Cosmo mung bean sprouts, boiled pork for hot pot, carved squid, white onion, coriander, tofu puff, lime and Sriraja Panich Chilli Sauce from Michael over at EastLand Foods. The noodles hydrated well with a hint of crumble that works. The broth is fascinating; it has a kind of lime and tamarind kind of flavor to it with a little heat and garlic as well. The retort pouch had some nice pork and little balls which reminded me of fishball which really added a lot of nice texture and flavor. Original review
#5: Mama Instant Rice Noodle Soup Spicy Shrimp Flavour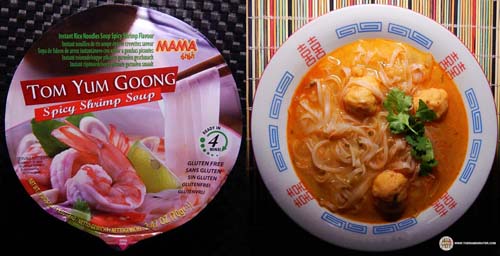 Added coriander, fish ball, white onion and mung bean sprouts. The noodles are very good – broad in nature and light in chew. They're slippery, so I found that using kitchen scissors to make a couple crosscuts through the mass of noodles in the pot made them easier to navigate. The broth is really good – has a spicy and lemongrass flavor with a nice shrimp hit, plus a nice sweetness as well I wasn't expecting. The little shrimp are in there as well, which hydrated quite nicely. Very pleased with this one Original review
#4: Yum Yum Jumbo Instant Noodles Tom Yum Kung Creamy Flavour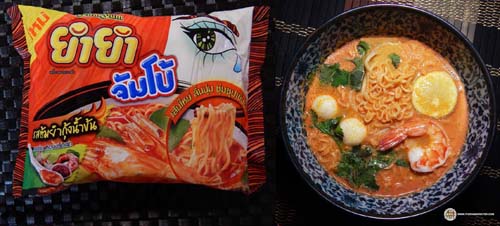 Added shrimp, fish balls, mung bean sprouts, lime and coriander. The noodles are very nice – thin and have a very light chew with just the faint hint of crumble to them. The broth is amazingly good – spicy, lemongrass, shrimp and a beautiful color to boot. Original review
#3: Mama Instant Noodles Shrimp Creamy Tom Yum Flavour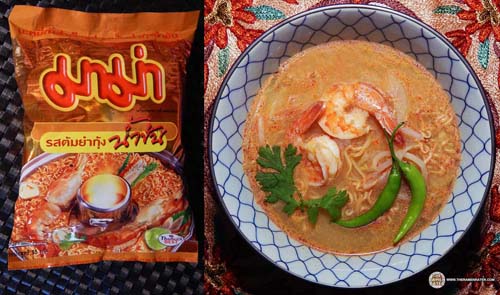 Added shrimp, Thai chillies, mung bean sprouts, white onion and coriander. The noodles hydrated very nicely, with that trademark gauge and slight crumble that MAMA noodles always have. The broth is spectacular – brilliant looking and with a slightly sweet, spicy, lemongrassy, shrimpy, creamy balance that's just superb. Love this stuff! Original review
#2: Mama Instant Noodles Yentafo Tom Yum Mohfai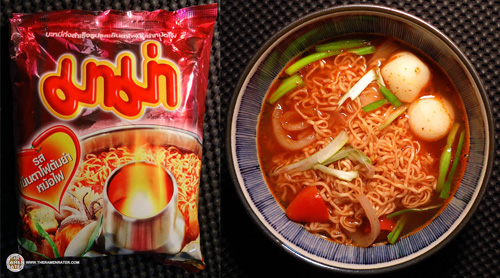 Added fish balls, sweet onion, Fresno chilli pepper and green onion. The noodles are the standard 'brown noodle' that MAMA makes – they have a bit of seasoning and have a firm yet agreeably crumbly texture. The broth has a light spiciness and sweetness to it with just a skosh of heartiness from the oil that works perfectly. I was extremely pleased with this one – extremely. Original review
#1: Mama Oriental Style Instant Noodles Green Curry Flavour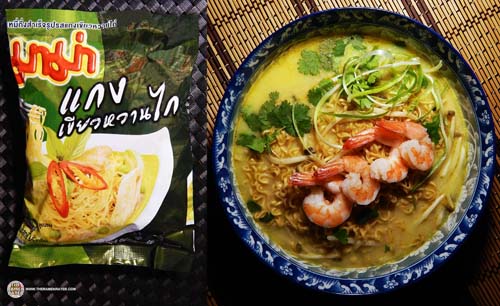 Added shrimp, green nira, mung bean sprouts and coriander. The noodles are thin and plentiful with a good texture and chewiness. The broth has a really nice heat to it and more than I expected. The flavor is a very nice green curry. Excellent! Original review
Products cooked according to package instructions. Product reviews done prior to adding any additional ingredients.