Got only one entry for week fifteen.  If you're new to The Ramen Rater's Show Your Noodles, every week you can email me a picture of some noodles you've made. include your name and location and I'll post it on the weekly roundup! Fancy or functional, it doesn't matter. I mean, you could do literally anything you want with some instant noodles – use your imagination!  Want to be part of next week's Show Your Noodles? Just email me at hans@theramenrater.com. Let me know you first name, last initial, and city/state or country!
So let's get it going here with our sole entry this week!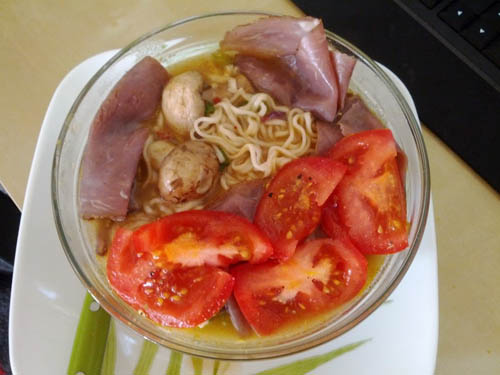 Koyo Mushroom Ramen- I added red pepper flakes, cayenne pepper, crimini and white whole mushrooms, celery, green onion, crazy salt, sliced beef and an egg during the last 25 seconds of preparation.  I also threw some shredded pepperjack cheese into the broth while boiling.  I garnished it with fresh sliced tomato wedges.  It ended up delicious!
— Drew D. in Los Angeles
Products cooked according to package instructions. Product reviews done prior to adding any additional ingredients.