NOTE: THE 2016 LIST HAS BEEN SUPERSEDED BY THE 2017 LIST – SEE IT HERE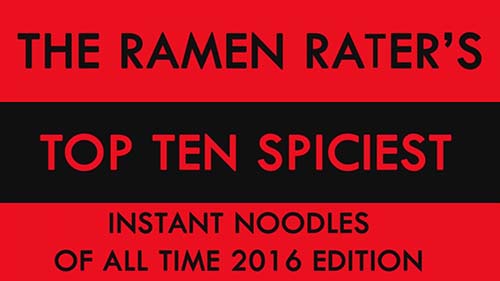 Every year, I review a ton of instant noodles – and every year I come out with quite a few lists. This list tends to change the least of all my lists – I've had a lot of spicy instant noodles in my time and just seems like nobody's getting any spicier products to market. Could be that they don't want to melt people's faces off perhaps. Anyways, here's this year's list – the spiciest varieties out of over 2,100 reviews. Enjoy – if you dare!
A video presentation of The Ramen Rater's Top Ten Spiciest Instant Noodles Of All Time 2016 Edition.
#10: Nongshim Jinjja Jinjja – South Korea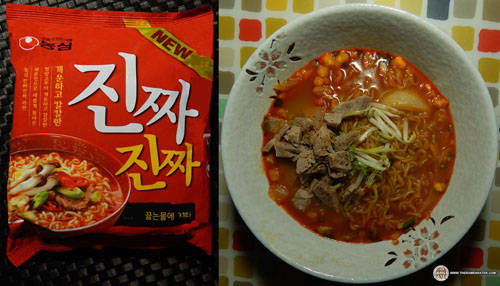 While still not available in the United States, Jinjja Jinjja is back in South Korea! This one packs a serious punch of heat along with pork, peanut and black sesame seeds. Original review here
#9: JML Emperor Instant Noodles Spicy Chicken – China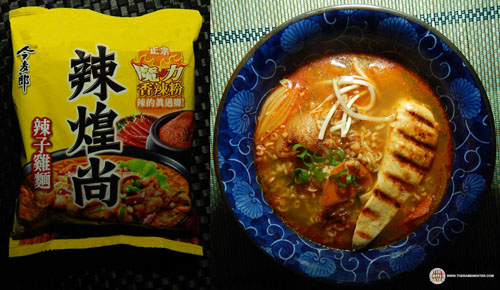 I wasn't expecting this one to be extremely spicy at the outset and then was in for a ride. Very very hot – augmented with a large sachet of coarse chilli peppers. Original review here
#8: emart Dare You! Habanero Jjamppong – South Korea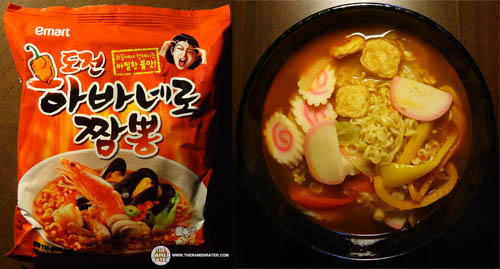 Extreme heat is paired with nice bit of seafood broth and lots of bits of seafood. All the fire and flavor melded together with thick ramyun noodles make it hot as well as delicious. This one comes in at 1,960 SHU (Scoville Heat Units). Original review here
#7: MyKuali Penang White Curry Noodle – Malaysia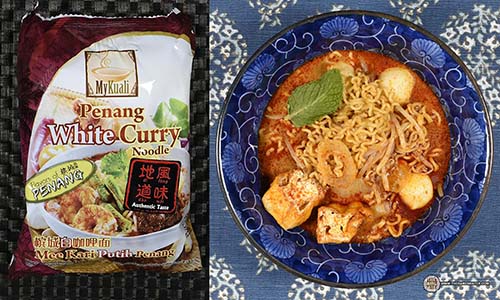 MyKuali's new recipe added a big punch of heat to their already amazing and groundbreaking Penang White Curry Noodle. Thick almost saucelike broth fires up the palate and includes a generous amount of garlic this time. Original review here
#6: Ching's Secret Hot Garlic Instant Noodles – India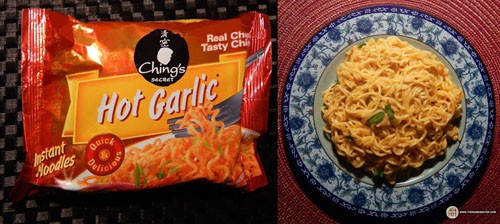 When I found this one at a local Indian market, I was very enthused. I thought to myself 'hey, I like garlic!' I kind of expected a salty, buttery and almost fettucini kind of thing. But no – this innocuous looking plate of noodles was violently spicy! Super hot garlic spiciness just builds and builds! Original review here
#5: Mi E-Zee Perisa Kari Mi Segera – Malaysia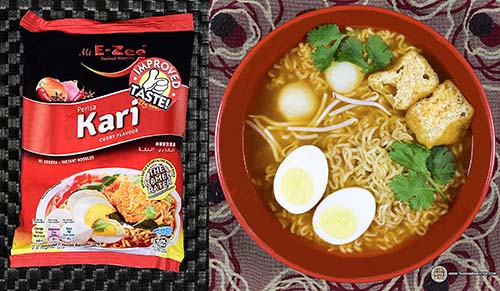 The noodles plumped up well and were nice and springy. The broth – ah, the broth. Here's the improvement! The curry taste is much stronger (the old version called for 450ml water and this one calls for 400ml) – not only that, the little sachet of chilli pepper flake just puts it over the top. It's hot – real hot – like walking around the living room as my mouth and lips are burning saying 'ooh' repeatedly hot. Original review
#4: Paldo Teumsae Ramyun – South Korea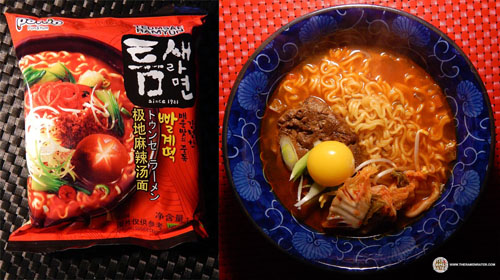 On the list for four years now! Another South Korean ramyun with serious kick to it. This isn't to be trifled with!  Teumsae has restaurants in South Korea which serve up some seriously spicy fare. I really like the text underneath the word Teumsae which reads, 'Flavor. Culture. Human' Original review here
#3: Samyang Foods Buldak Bokkeummyeon – South Korea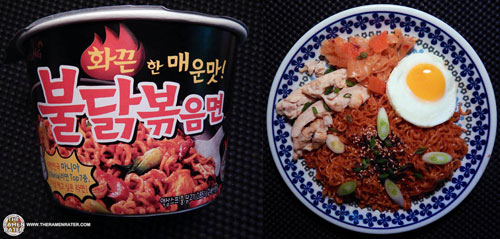 I would say that I've seen dozens of videos on YouTube showing people competitively eating this one. This stuff is extremely hot. Another brothless variety and it really packs a punch as well as has a nice taste to it. Thick ramyun noodles round everything out nicely and will transmit the spicy sauce to your tongue. Original review here
#2: Paldo Bulnak Bokkummyun Spicy Fried Octopus Ramyun – South Korea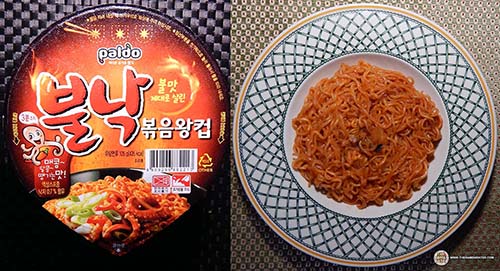 See that little octopus on the package with the smile on his face? He's laughing. Laughing as he watches you sweat as you eat this ultra spicy ramyun! I'm not kidding this one was over the top spicy! Bring a fire extinguisher. Original review here
#1: emart Dare You! Habanero Ramyun – South Korea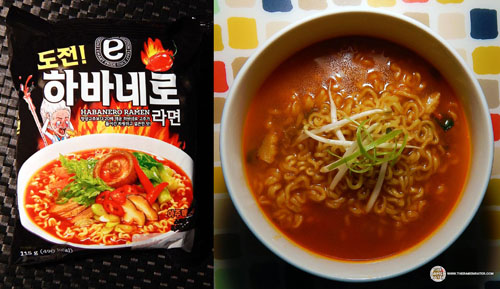 For the fifth year running, this stuff tops the list. Despite a packaging design change, you should still heed the warnings; habanero pepper top right corner, temperature gauge and screaming person, black packaging… Yeah – it's not one to underestimate; this is violently hot. The broth just keeps delivering the heat and it's just insane. Try licking a lit candle – I swear this stuff is hotter! Original review here