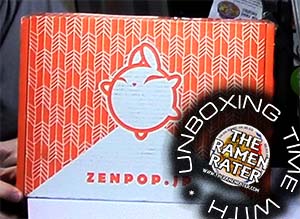 Was stoked to find another box in the mail – this time a box from Zenpop.jp, a company that sells Japanese themed boxes with all sorts of different things in them. Haven't seen a rfancy box like this one from them before – also wasn't sure how they were going to fit a lot of varieties of instant noodles in here like the others contained. Let's crack it open and look within!
Zenpop Ramen + Sweets Mix Pack – Japan
Let's have unboxing time with The Ramen Rater!!
As it turned out, this is a different kind of box than what they had been sending me. This one wasn't just instant ramen but snacks and candy from Japan as well! Thank you! Very interesting things inside this box – fried egg-shaped chocolate, wasabi and beef flavored things that resemble gigantic Cheetos – really neat. If you want to get one of these, make sure you use the coupon code RAMENRATER at checkout for a discount. Thanks!