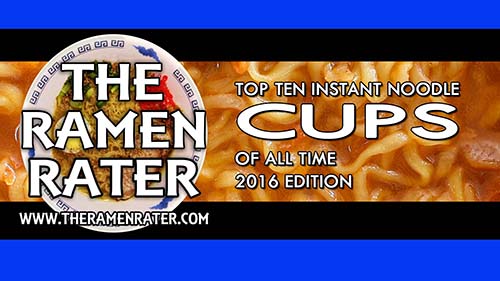 This is the fourth Top Ten Instant Noodle Cups list I've done since 2013 and I just looked at the first one – none of them are still on this list! I will say one thing though – the ones on the 2013 list are all really good too. It's hard picking a list to be honest; maybe a top fifty? Naw – ten is enough. Maybe when I've done 5000 reviews a top fifty might be in order. But for now, here's the best of the best – my absolute favorite cup varieties from the 2,100+ reviews I've done.
Here's this year's The Ramen Rater's Top Ten Instant Noodle Cups video.
#10: Nongshim Kimchi Flavor Noodle Soup – United States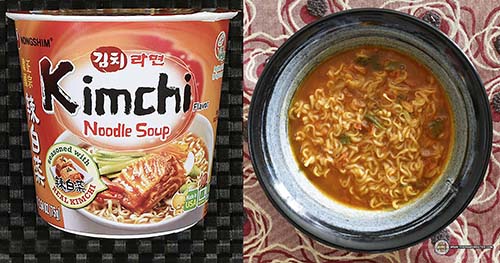 As it says on the package, it come out the microwave very hot. By the time it was cool enough to sample, the noodles were perfect – good gauge and chew. The broth had a very tasty kimchi taste – bright and lively with that nice tanginess and heat I enjoy. The vegetables were abundant and well hydrated. Original review
#9: MAMA Cup Yentafo Tom Yum Mohfai – Thailand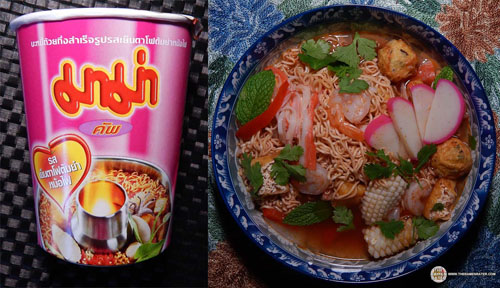 The noodles have the standard wonderful gauge and chew of the noodles that are in MAMA cups. They have a nice texture and flavor to them. The broth is great – a nice color, spiciness and flavor that is a little sweet and very unique. Original review
#8: Nissin Cup Noodle Light+ Cheese Fondue – Japan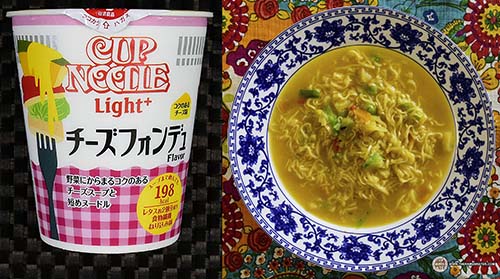 My first thought is wow. So the noodles come out very nicely – light chew and nice gauge. These noodles are different from the standard Cup Noodle. The broth is sensational; it's very thick and has a very nice cheese taste as well as a layered and rich vegetable flavor which is not only savory but has very gourmet notes to it. I'm finding cabbage and red bell pepper as well as sweet carrot and potatoes. This is really great – and that it's a light variety is mind boggling as it's full of flavor and doesn't skimp on anything. Original review
#7: Mamee Mie Goreng Indonesia Spicy Sambal Flavour – Malaysia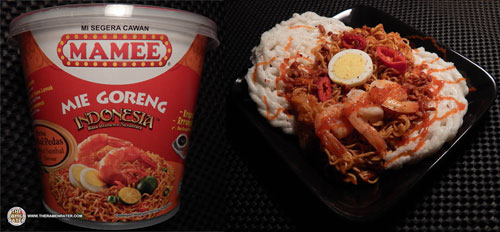 The noodles came out so nicely – they have a great character of chew and whilst not in a broth, they're not dry after being drained. The flavor is wonderful – spicy and tasty with that sweet-hot kick I love about mie goreng. The crunchy bits rounds everything out soundly. Original review here
#6: Nissin Nupasta Carbonara Flavour Instant Noodle – Hong Kong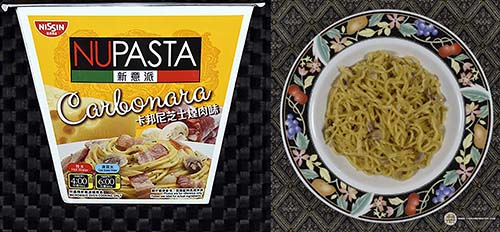 The noodles came out very, very well. They have a very fresh quality to them and a decent quantity. The vegetables and meats hydrated and cooked great – little bits of bacon, mushroom and other stuff throughout. The flavor was just great too – the white powder turned into a sauce with perfect thickness and quantity – and it tasted like an alfredo sauce. This was just plain awesome. Original review
#5: Mamee Chef Lontong Flavour – Malaysia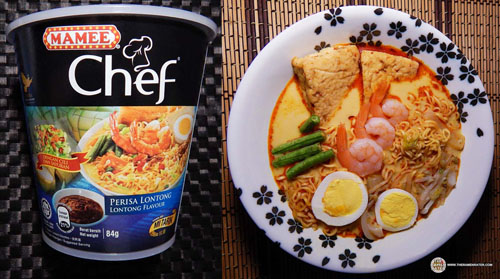 The broth is first off a lot of fun to look at; the red and cream colors are really good looking. The broth has a creamy and spicy taste with lots of nice pieces of red pepper, and as always the 'mi tarik' noodles were just right. Very new and unique. Original review
#4: MAMA Instant Cup Noodles Seafood Pad Kee Mao Flavour – Thailand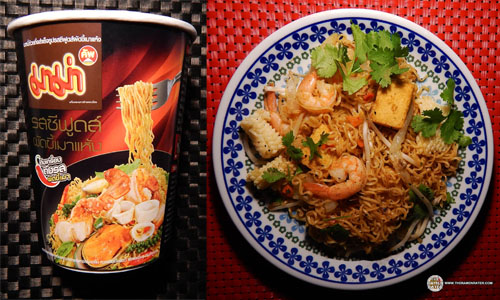 The flavor is really quite good and can be summed as kind of a sweet seafood taste with a great bite of spiciness – and then this lingering flavor from the holy basil. It's got a really different flavor I wish was present more often in instant noodle varieties. Original review
#3: MyKuali Penang Red Tom Yum Goong Noodle Authentic Taste – Malaysia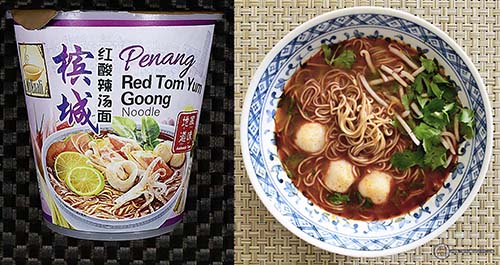 The noodles have a very light chew and a different mouthfeel. While I wasn't entirely satisfied with this new style of noodle in the White Curry cup, this works very nicely with the tom yum. The broth is a tour de force of strong flavors – spicy, lemongrass pucker and a really nice balance of shrimp and vegetable taste. Original review
#2: Mamee Chef Curry Laksa Flavour – Malaysia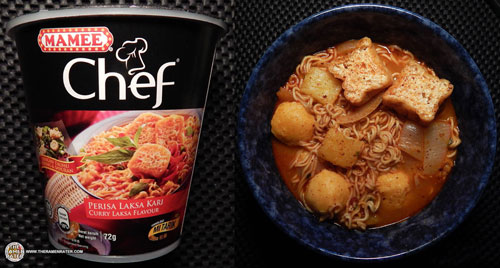 There are some flavors erupting from Malaysia that are just fantastic and this instant noodle cup exudes them like a rock star. The noodles came out excellent – pretty much identical to the packaged version. The broth and garnish as well were great – rich curry flavor and premium garnishes including little tofu puff bits and pepper. Original review here
#1: MyKuali Penang Hokkien Prawn Noodle Authentic Taste – Malaysia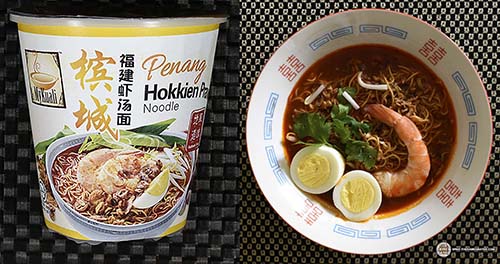 The noodles are soft and have a kind of dark tan color to them. The broth here is like you died and went to prawn mee heaven. It's thick, oily, spicy and tasty. It's just awesome stuff, and then they go and include those awesome fried onions. The only thing is the bustling of motorbikes and people talking at the hawker court. Original review
Products cooked according to package instructions. Product reviews done prior to adding any additional ingredients.