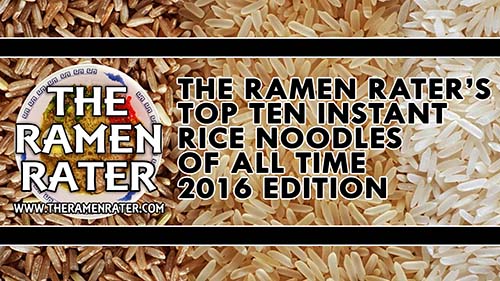 Seems like it wasn't that long ago I came out with the first Top Ten Rice Noodles list – was thinking I might not do an update since I hadn't reviewed a ton of new ones in the last year but since a couple were definitely worthy, here it is. Here's The Ramen Rater's Top Ten Instant Rice Noodles Of All Time 2016 Edition!
#10: Dragonfly Guilin Style Flavor Guilin Rice Vermicelli Bún Quế Lâm – China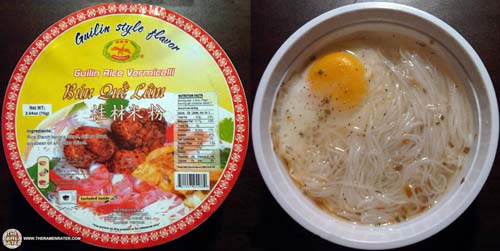 Light noodles were augmented by a very nice broth. Rich shrimp flavor was there and it had an oiliness to it I enjoyed. I believe this is the first rice noodle I really enjoyed thoroughly. Original review
#9: Super Bihun Goreng Rice Noodles – Indonesia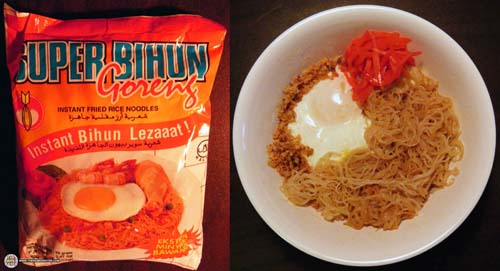 Here's another one of the Super Bihun varieties. This one is a dry rice noodle with a spicy and sweet taste to it. Another very old review. Original review
#8: Premiere Gold Bihun Kari Heritage Instant Curry Vermicelli – Malaysia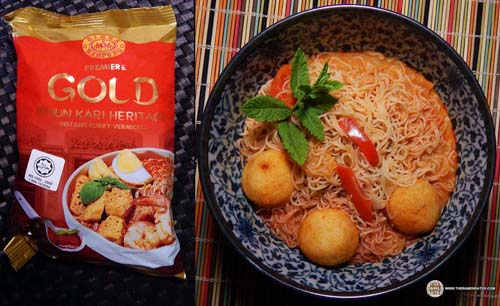 Ah, Malaysian curry, hallowed be thy name! The noodles were quite nice – good gauge and nice texture to them. The broth had a strong curry flavor with a very nice color. Original review
#7: MAMA Instant Rice Vermicelli Bihun Goreng Original Flavour – Thailand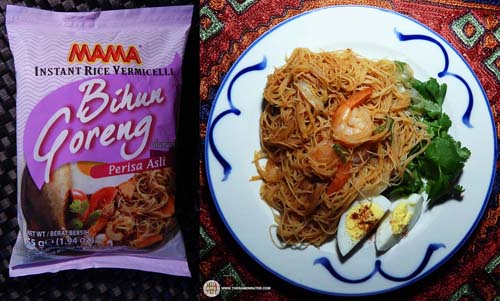 The noodles hydrated very nicely during the steeping process. Not too dry and had a substantial chew to them. I also would recommend using some kitchen scissors on them to do a couple cuts to make the length a little shorter – a trick I picked up from the first time I tried South Korean potato noodles. . The have a very nice flavor – sweet, salty and spicy. The spiciness definitely builds to a really exuberant crescendo! Original review
#6: Nongshim Arrabiata Rice Bucatini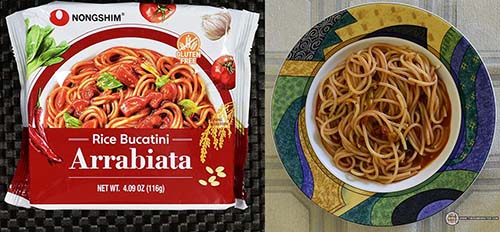 The rice noodles came out very nicely – thick and with just the right amount of chewiness. The sauce was extremely good – very nice tomato taste with a nice spiciness to it – seemed almost like a kimchi spaghetti sauce! The vegetables were ample and worked well. I'm very impressed with this – definitely look for this one. Original review
#5: Mamee Chef Gold Recipe Bihun Kari Seribu Rasa – Malaysia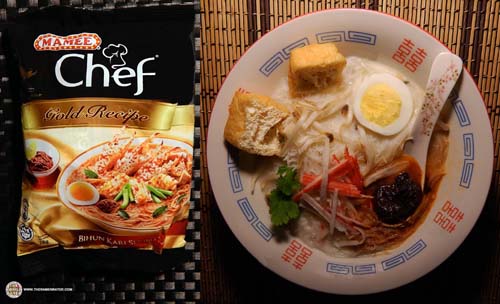 The Mamee Chef Gold Recipe on the 2015 Edition of the Top Ten Instant Noodles list, but with bihun! The noodles have a slight dryness to them, but the best part is how the broth is so rich and flavorful; it's like a bowl of Malaysian love. Original review
#4: Ah Lai Penang Favourite White Curry Rice Vermicelli – Malaysia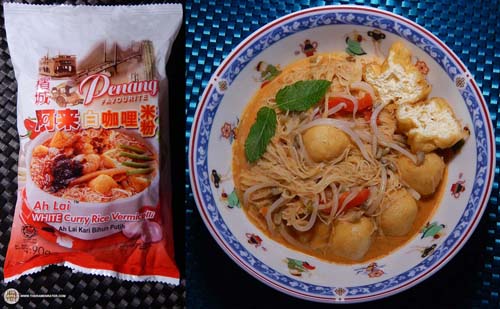 I found I liked this vermicelli version of their white curry better than their wheat noodle variety! I don't think that's happened before; it's kind of been a love/hate relationship I've had with rice based noodles for years. However, the rich flavor of the broth embraces the noodles and enrobes them in curry happiness. Original review
#3: MAMA Instant Rice Noodle Soup Spicy Shrimp Flavour – Thailand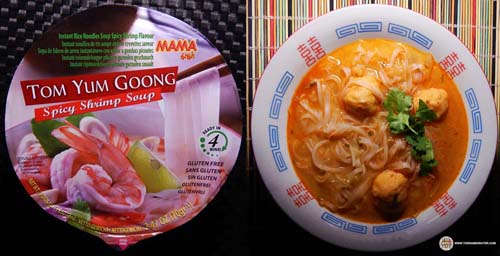 The noodles are very good – broad in nature and light in chewiness. The broth is really quite good – it has a spicy, lemongrass flavor with a nice shrimp hit, plus a sweetness as well that I wasn't expecting. The little shrimp are in there as well, which hydrated quite nicely. Very pleased indeed! Original review
#2: MyKuali Penang Hokkien Prawn Soup Rice Vermicelli (Bihun) – Malaysia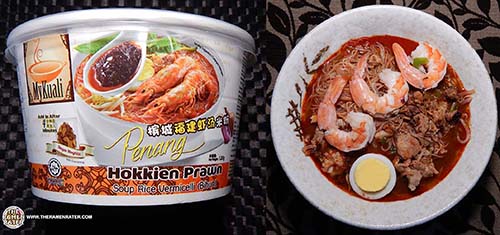 The bihun as hydrated really well for something steeped. The broth is mind blowing. If you like a thick and serious onslaught of prawny sweetness and heat, this is absolutely for you. It's so rich and strong and tasty! To top it all off, fried onion bits that are the best I've ever had in any instant product – other than the wheat noodle package version of this product. Amazing! Original review
#1: MyOri Malaysia Penang Green Curry Rice Vermicelli – Malaysia

So I get an email from a fellow named Leslie a few months back. He sends me some of these noodles and then it began, 'have you tried them? Will they make a top ten list?' To be honest, it was a little weird! Finally, I started a Meet The Manufacturer with MyOri and tried them. Then I understand why he was pestering me. The vermicelli is good, but the green curry flavor – that's just perfect – deep and rich and a little sweet as well. I mean, wow – if you like green curry, this is absolutely for you. The flavor is so rich, the heat level just right; I absolutely loved it. Bravo! Original review
Products cooked according to package instructions. Product reviews done prior to adding any additional ingredients.