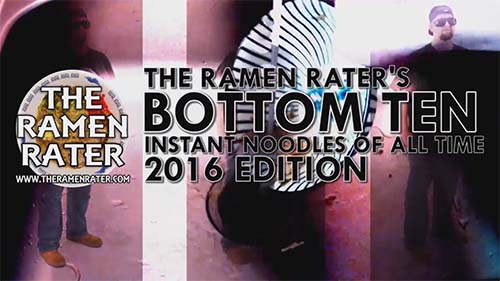 A while back, somebody asked me if since I have top ten lists, what about a 'bottom ten' list? Well, when I was asked that, I was a little leery at first and then figured hey – why not. That's what we have here. In it's fourth iteration since 2013, here are my very least favorite varieties I've samples out over over 2,000 reviews. I should note that I see these often and so I'm sure many of you will disagree with me. It's kind of crazy – some people get really offended at my picks. But these are my PERSONAL least favorite instant noodles; don't take it personally… Geez… Without further ado, let's dig in to The Ramen Rater's Bottom Ten Instant Noodles Of All Time 2016 Edition!
A video version of this review.
#10: Western Family Beef Flavour Instant Noodles – Canada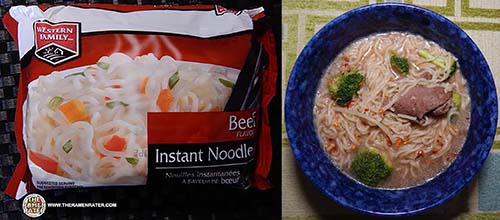 After 3 minutes of cooking, the noodles weren't very good at all. It's like they had a film on the outside that just didn't ring right in my mouth. The flavor of the broth was as bland as can be. It's rare that I feel like I need to either dump salt or soy sauce into an instant noodle broth. There is no merit here. – Original review
#9: Thai Smile Mushroom Rice Noodle Soup Bowl – Thailand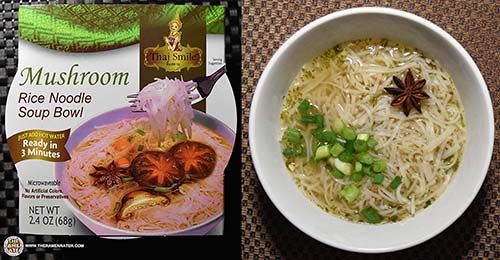 The rice noodles didn't hydrate as well as they should have in the 3 minutes called for; they were quite tough. After a minute or so longer however they got softer. The flavor was this oddly sweet kind of thing; it didn't scream mushroom taste to me. The supplied bits of vegetable hydrated well, except the mushroom which were like hard pieces of wood. – Original review
#8: Paldo Green Tea Chlorella Noodles – South Korea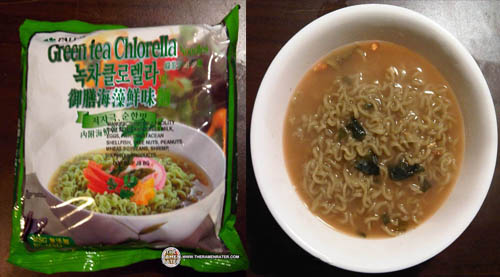 While this company makes some noodles I really enjoy, they also make this one which I deplore. It's just got such a funky flavor to it and a smell I can't take. Original review
#7: Fu Chang Chinese Noodle Company Pork, Seafood & Noodles Combo – United States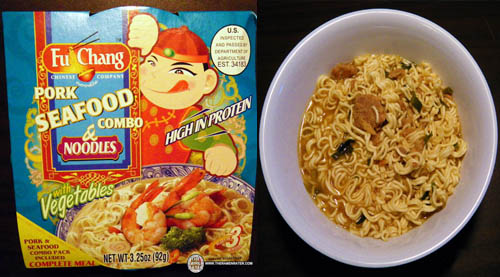 The noodles in this one were really mushy, and while it had a retort pouch with meat and seafood, it was really nasty. Original review here
#6: Maruchan Spicy Tomato Salsa Ramen – Japan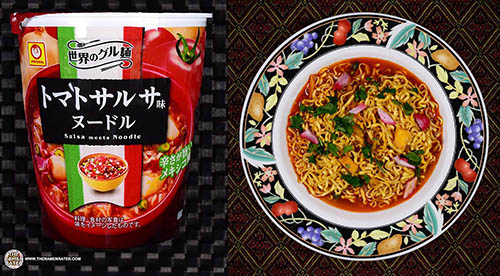 The noodles hydrated very nicely and have a standard flatness and thin character. The flavor was unfortunately something of a departure. It was a kind of spicy and putrid tomato melange – like homemade salsa left out overnight from binge drinking with a crew of chainsmokers – which just tastes like pure trainwreck. The bits of potato were interesting and hydrated well enough though – kind of liked that they had potato skins on. But yeah – this was just a fusion that should come undone. Original review
#5: Vedan Wei Wei A Instant Noodles Chicken Flavor – Taiwan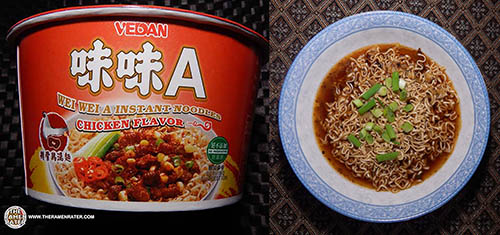 The noodles were very ho-hum. While they hydrated well, they seemed like they just didn't belong in the 'food' group; spongy and riddled with sadness. As for chicken flavor, that was definitely absent. I was really happy about the vegetables, but they were mushy. Original review
#4: Koyo Reduced Sodium Garlic & Pepper Ramen – United States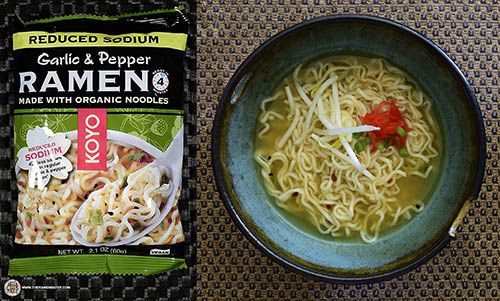 The noodles are thick – more like ramyun. They have an alright chew; although they seem almost doughy- and not Hakata style ramen noodle doughy. The broth does taste of garlic and pepper, but it's so very bland. It really is like you could boil some pepper and a clove of garlic and achieve the same results. Not at all to my liking. Original review
#3: Urban Noodle Authentic Street Food Black Bean – United Kingdom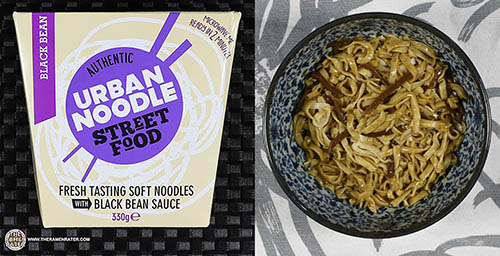 The noodles in this one were flat instead of round. They came out very nicely. The flavoring however was just strange. I expected maybe something of a Korean-Chinese fusion dish, but those are hearty and rich and not savory and sweet. In fact, this one was a little too sweet for me. The thinly sliced bamboo shoots don't work for me either; leaving them whole would be nicer I think. What's more, it has a kind of chemically aftertaste; like chlorine or soap. Original review
#2: One Dish Asia Japanese Ramen Noodle – United States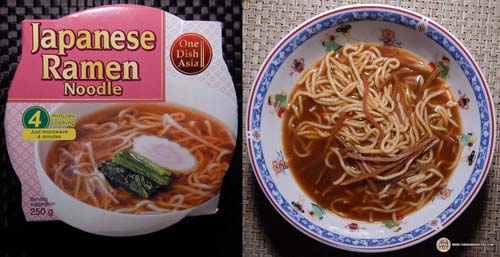 This one comes with a fresh noodle pouch. They didn't have a very fresh texture; more mushy. The bamboo shoots (which more resembled overcooked carrot and I had to consult the ingredients to figure what they were) were mushy as well. The broth had an acidic and a flavor reminiscent of the teriyaki flavor I've encountered in bad teriyaki instant flavors. A hot mess. Original review here
#1: Baijia Single Noble Black Bone Chicken Flavor Instant Sweet Potato Noodles – China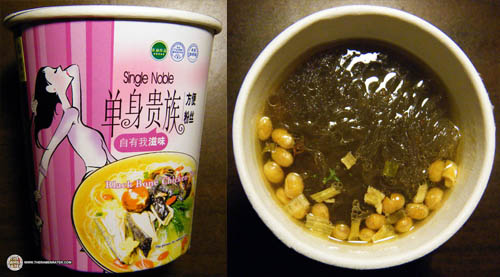 Here is my least favorite variety of all. Retaining it's #1 ranking again this year, its slimy sweet potato noodles, thick, greasy broth and horrid veggies that didn't hydrate well was just a flavor, texture, and complete food hole nightmare for me.. This was just horrible stuff that I couldn't stand. Original review here
Products cooked according to package instructions. Product reviews done prior to adding any additional ingredients.