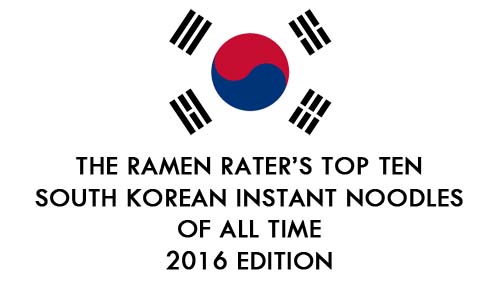 South Korea has the highest per person consumption of instant noodles in the world. It's not a surprise that their instant noodle are quite good – usually the noodles (known as ramyun) are thicker and accompanied by a spicy broth. These are my very favorite varieties of South Korean instant noodles – hope you enjoy!
#10: Paldo Kko Kko Myun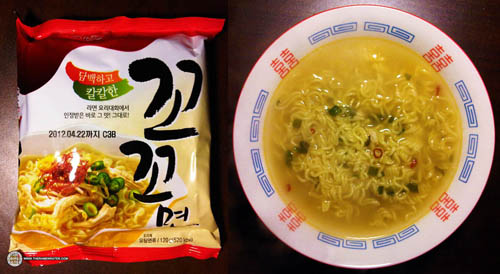 This one is like a bowl of candy to me. We start with nice quality noodles, and then the broth takes over. The broth has a kind of chicken and jalapeno flavor to it. The flavors play off of each other quite nicely and deliver both a strong bite as well as a mellow comfort food flavor in one bowl. The vegetable packet includes little chicken pieces. Original review
#9: Paldo Jjamppong Seafood Noodle King Bowl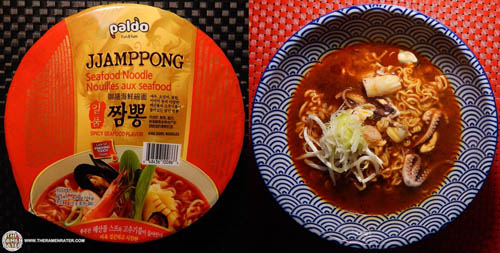 Thick and chewy ramyun noodles are augmented by a broth with a good consistency – a little thickness was very good. Also a slightly sweet, seafood and spicy flavor to it I thoroughly enjoyed. Original review here
#8: Samyang Foods Red Nagasaki Jjampong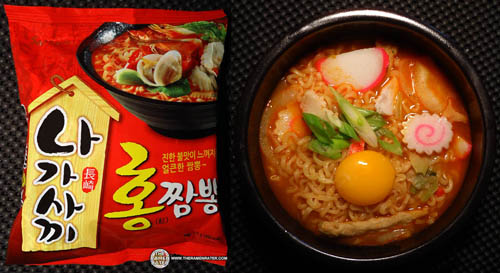 The noodles are perfect – what I like to find in ramyun! Thick and chewy. The broth is amazing – an excellent level of heat balanced with a respectable amount of seafood flavor. The added vegetable pieces hydrated quite well. Top notch! Original review
#7: Paldo King Bowl Super Spicy Pan Stirfried Noodle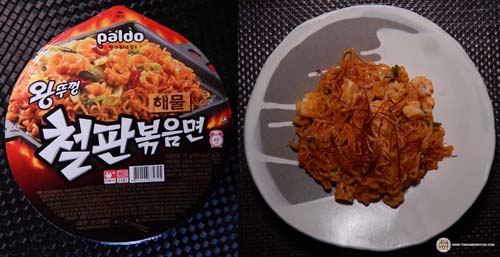 The noodles are of a good ramyun gauge – lots of them as well. The flavor is a kind of seafood and spicy thing and there's a sweetness going on as well. The supplied vegetables did great – this was an amazingly good stir noodle! Original review
#6: Nongshim Soon Veggie Noodle Soup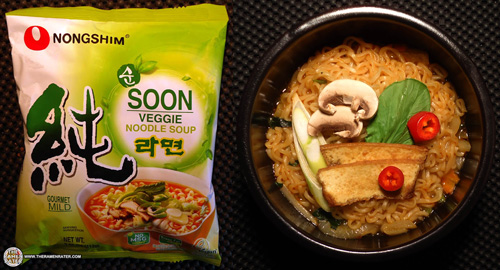 This is the first instant noodle on the top ten to be marketed towards vegetarians. What surprised me about it was the broth had such a full flavor to it; deep and satisfying. The noodles are slightly larger in gauge than your run of the mill instant, which is common of South Korean 'ramyun.' Magnificent stuff! Original review
#5: Nongshim Zha Wang (Jjawang) Noodles With Chajang Sauce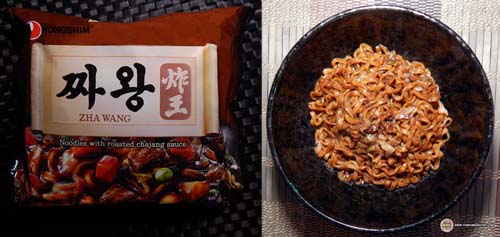 The noodles are out of this world – soft and chewy, with a nice width and thickness – very hearty. The sauce coats everything and there's more than enough of it. It has a rich black bean flavor augmented with peas, cabbage and other veggies. This is the best jjajang I've ever tried. Original review
#4: Paldo Cheese Noodle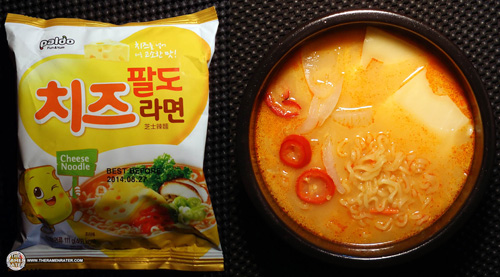 These noodles – wow. I think the best addition to South Korean ramyun has to be cheese. Well, not only is cheese included here but it's got just the perfect notes of spiciness and strong, rich flavor. The little guy with the sign that says cheese noodle rocks as well. Original review
#3: Paldo Rabokki Noodle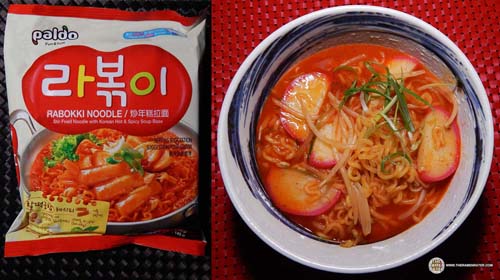 The noodles plumped up just perfectly – thick and a good chew. The broth is more of a sauce and it's very rich – spicy and sweet – like an adult version of Spaghetti-O's which I find delectable. Original review
#2: Nongshim Jinjja Jinjja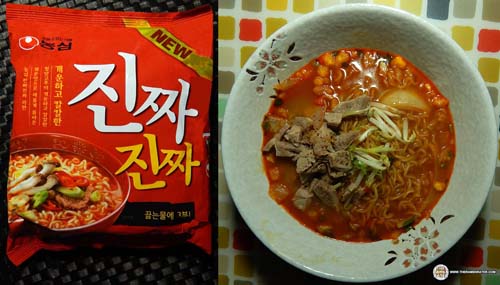 The noodles are very good – nice thick ramyun. The broth has a seriously spicy kick to it and a very peanut aroma with pork notes. The vegetables hydrated very well. Back with a vengeance! Original review
#1: ChoripDong Hurricane Rice Cake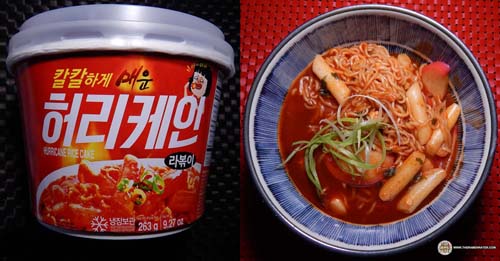 It's red. It's got a thick spicy and sweet sauce. It's got ramyun. It's got topokki. This was a real find – Just looking at the picture makes me want some right this instant. The most wonderful big bowl of noodles I've ever had. Original review here
Products cooked according to package instructions. Product reviews done prior to adding any additional ingredients.