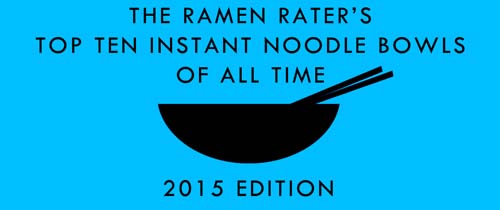 Another year's gone by and here we are again with the new bowls list. A lot of really interesting ones this go around and some old favorites. At the point of putting this list out, I've almost hit 1,700 reviews. Of those, these are in my opinion the best tasting and the most memorable varieties. With that, allow me to present The Ramen Rater's Top Ten Instant Noodle Bowls 2015 Edition.
Just like with the regular top ten, I did a countdown video!
#10 – Hao Way Penang White Curry Instant Bowl Noodles – Malaysia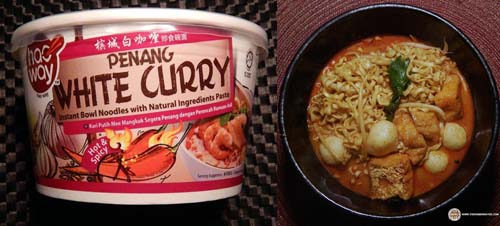 As you know from my Top Ten packages list, I'm a big fan of curry – especially Malaysian curry. This bowl boasts a thick and chewy noodle and a strong white curry flavor. Original review here
#9 – Nissin King Spa王 (Spa Oh) Tarako Spaghetti – Japan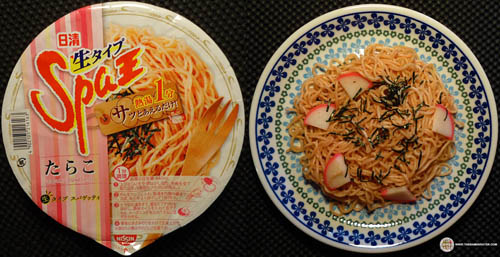 Here's one where the liquid is drained off. Tarako is a fish roe based sauce used in Japanese pasta dishes. The flavor is very good and the noodles came out just right. The seaweed bits go very nicely as well. Original review here
#8 – Maruchan Big Cup Ramen Corn, Salt & Butter Flavor – Japan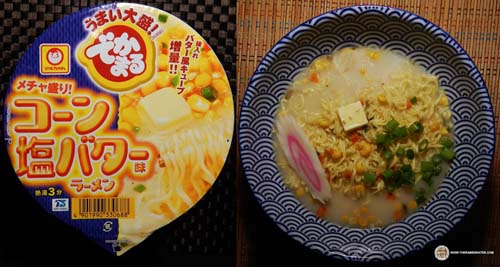 Another one from Japan. This one was a real treat – scads of corn and even a little block of butter inside! Definitely unique. Original review here
#7 – Paldo Jjamppong Seafood Noodle King Bowl – South Korea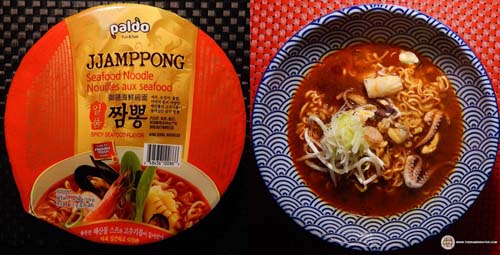 Thick and chewy ramyun noodles are augmented by a broth with a good consistency – a little thickness was very good. Also a slightly sweet, seafood and spicy flavor to it I thoroughly enjoyed. Original review here
#6 – Acecook Comet Mori Yukino Tan-tan Men – Japan

This stuff is very red! The noodles are broad and flat. They have a very nice chew to them and are of a premium type. The broth is very rich and oily. It has a strong spiciness and is almost thick – but not in a bad way. A rich pork flavor abounds. The veggies and other bits hydrated quite nicely. Original review here
#5 – Unif Man Han Feast Sichuan Chili Eel Flavor Instant Noodle – Taiwan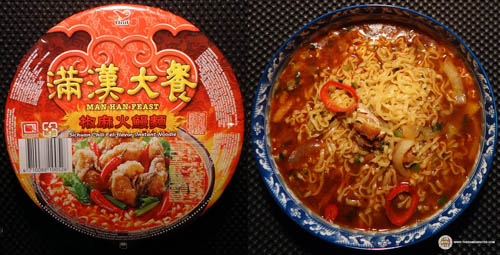 The noodles are flat and broad. They have a nice quality to them; not too chewy but very good for a bowl noodle. The broth is rich with a good spiciness. The added bonus with this is the eel – it's really good! Everything is rich and hearty and it's definitely a feast to behold and consume. I should also note – this is one of a line that includes a braised beef variety amongst others. I would very much like to review every one of these, both in pack and bowl form. If you can source them and would like to send me some, please use the above contact form to do so! Thanks! Original review here
#4: Paldo Jjajangmen Chajang Noodle King Bowl – South Korea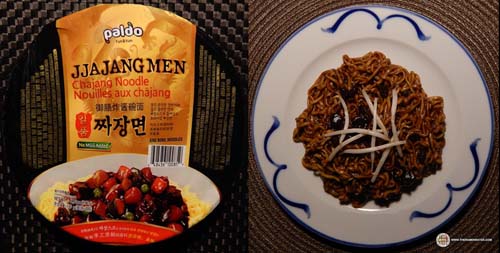 Another in Paldo's King Bowl line. Again, this one has thick and chewy ramyun but is a broth-free variety, coated with a delicious and savory black bean chajang sauce. Sticks-to-your-ribs! Original review here
#3 – Plats Du Chef Cuisine Adventures Chicken Phở Soup – Canada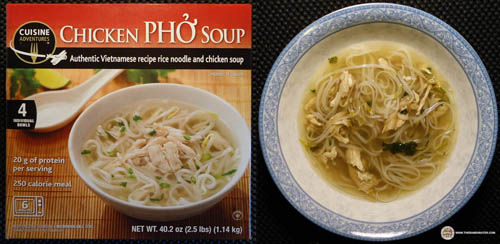 I have to say this was a great surprise. I have had a throng of horrible Canadian instant noodles – in cups, bowls, packs – just horrible. This one is a diamond in the rough. It includes excellent rice noodles, a very tasty pho broth and to top it off, it's got real chicken! This is a bowl to behold. Original review here
#2 – Nissin Raoh Rich Soy Sauce Flavor – Japan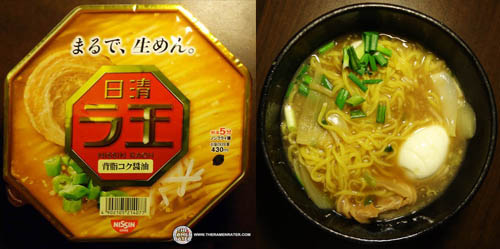 Slipping to second place this year is Nissin's Raoh. The noodles and broth play so nicely together and the pork is quite good. A bowl of noodles to really enjoy by candlelight. Note – Japanese varieties have become very hard for me to come by. If you would like to donate some varieties found in Japan, please use the contact link above! Thank you! Original review here
#1 – Choripdong Hurricane Rice Cake Topokki – South Korea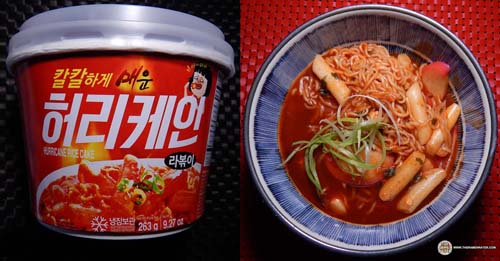 It's red. It's got a thick spicy and sweet sauce. It's got ramyun. It's got topokki. This was a real find – Just looking at the picture makes me want some right this instant. The most wonderful big bowl of noodles I've ever had. Original review here
Products cooked according to package instructions. Product reviews done prior to adding any additional ingredients.