If you like it hot, you're in for a real treat here. These are the spiciest instant noodles you can get that I've reviewed from my 1,446 reviews thus far. If you can't handle spicy foods, these definitely aren't for you – these are serious! Many of these were so hot, I couldn't finish the bowl – and I can handle a decent amount of heat! I used to review hot sauces! Anyways, Hope everyone is having a great summer and here are the spiciest instant noodles of all time for 2014!
#10: Nongshim Harmony Korean Spicy Noodle Dish With Chipotle – United States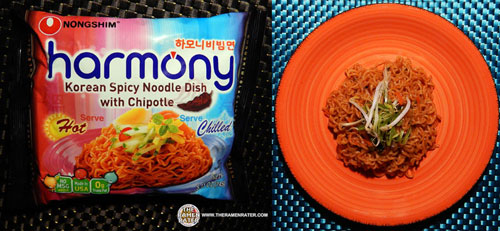 This unique instant is very new and quite spicy. What's interesting about is that you can serve it hot or cold, but the spiciness is going to bite you either way! This is the only variety I've found featuring chipotle pepper heat. Original review
#9: Mamee Mi Segera SLLRRRP! Perencah Kari Xtra Pedas – Malaysia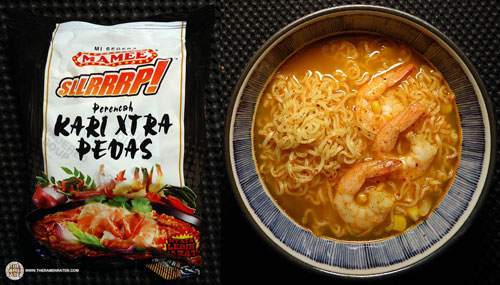 The noodles are good – plump with a nice chewiness. The broth is very spicy and hot – not for the faint of heat! It has a good curry flavor to it. If you like spicy curry, check this one out. By the way, Kari Xtra Pedas means extra hot curry if you couldn't figure that out! Original review
#8: Maggi Extra Spicy Curry Instant Noodles – Singapore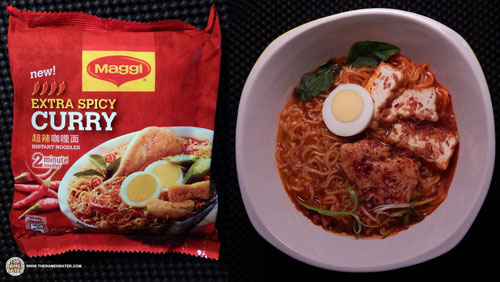 Maggi 2 Minute Curry is a nice instant with a little bit of heat, and with the demand for more hotness, they made this new variety. Extra Spicy Curry has a really great flavor to it and a heat that will definitely challenge many. Original review
#7: MyKuali Penang White Curry Noodle – Malaysia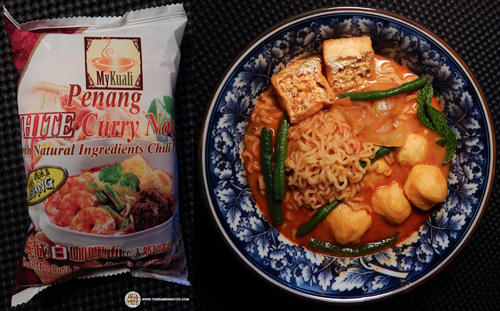 When MyKuali's White Curry Noodle hit this list last year, there was a bit of a craze for it in Malaysia! People really wanted to give it a try. Not only is it retaining it's spot this year on the spicy list, but it is the reigning number one on The Ramen Rater's Top Ten Instant Noodles Of All Time 2014 list. If you can, you have got to try this spicy marvel! Original review
#6: Indomie Curly Noodle With Chicken & Chilli Paddi – Indonesia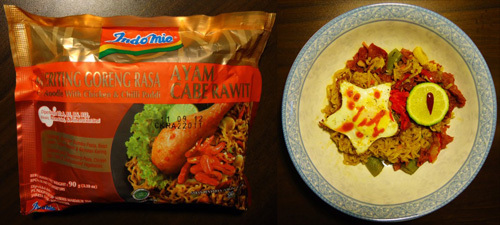 This one's a lot of fun; kind of like Russian roulette on a plate! You're eating your noodles and all of a sudden wham! There's usually a couple of these little chillies in there and they pack an extreme punch. You'll definitely know it when you find it! Original review
#5: emart Dare You! Habanero Jjamppong – South Korea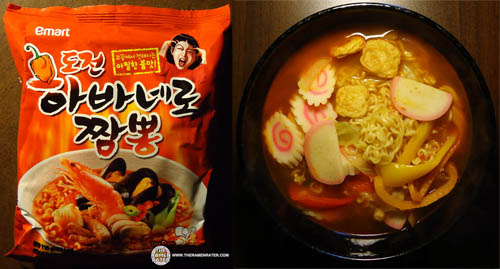 Extreme heat is paired with nice bit of seafood broth and lots of bits of seafood. All the fire and flavor melded together with thick ramyun noodles make it hot as well as delicious. This one comes in at 1,960 SHU (Scoville Heat Units). Original review
#4: Paldo Teumsae Ramyun – South Korea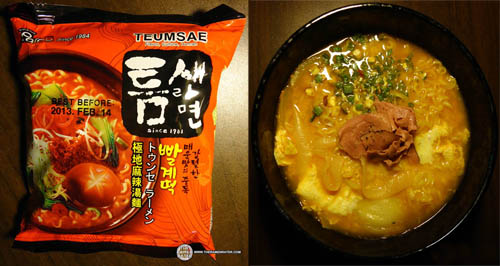 On the list for three years now! Another South Korean ramyun with serious kick to it. This isn't to be trifled with!  Teumsae has restaurants in South Korea which serve up some seriously spicy fare. I really like the text underneath the word Teumsae which reads, 'Flavor. Culture. Human' Original review
#3: Samyang Foods Buldalk Bokkeummyeon – South Korea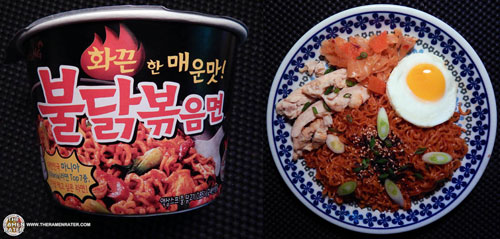 I would say that I've seen dozens of videos of YouTube showing people competitively eating this one. This stuff is extremely hot. Another brothless variety and it really packs a punch as well as has a nice taste to it. Thick ramyun noodles round everything out nicely and will transmit the spicy sauce to your tongue. Original review
#2: Paldo Bulnak Bokkummyun Spicy Fried Octopus Ramyun – South Korea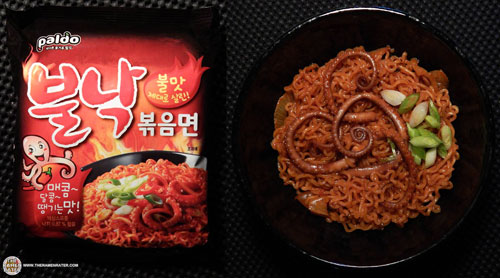 See that little octopus on the package with the smile on his face? He's laughing. Laughing as he watches you sweat as you eat this ultra spicy ramyun! I'm not kidding this one was over the top spicy! Bring a fire extinguisher. Original review
#1: emart Dare You! Habanero Ramyun – South Korea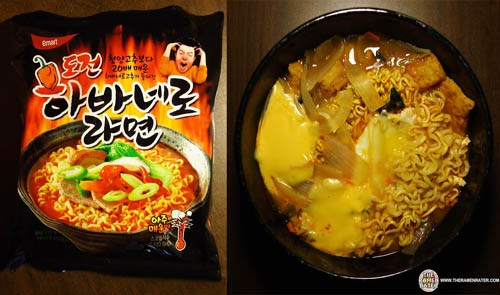 For the third year running, this stuff tops the list. See the little guy in the top right? Yeah – it's not one to underestimate; this is violently hot. The broth just keeps delivering the heat and it's just insane. Try licking a lit candle – I swear this stuff is hotter! Original review
Products cooked according to package instructions. Product reviews done prior to adding any additional ingredients.