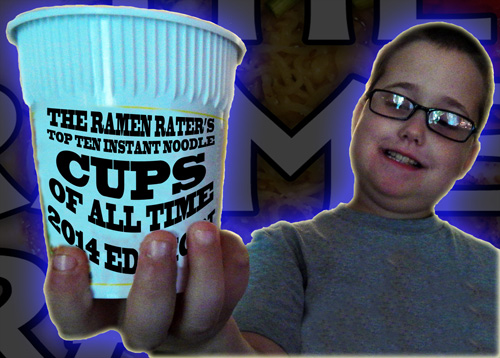 Yeah – it's that time of year again! Cups are interesting; they usually hold a lot less water than a bowl, so the steeping process is a little different and so are the noodles. I've had some horrendous cups over the years, but then there are some that are really quite good. This last year has been a great one where cups are concerned! Let's have a look at the best of the best! The Ramen Rater's Top Ten Instant Noodle Cups Of All Time 2014 Edition!
#10: Nongshim Sir Long Tang Creamy Beef Noodle Soup – United States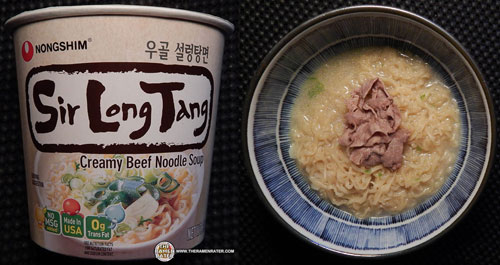 Sir Long Tang is a creamy beef noodle soup. Creamy beef soups are very common in South Korean cuisine – such varieties as Seollongtang and Gomtang feature broth that is made from boiling beef bones for hours and hours. Sir Long Tang has a very nice and rich beef flavor with a great creaminess and excellent noodles. Original review here
#9: Nissin Cup Noodles Seafood Curry Flavour – Hong Kong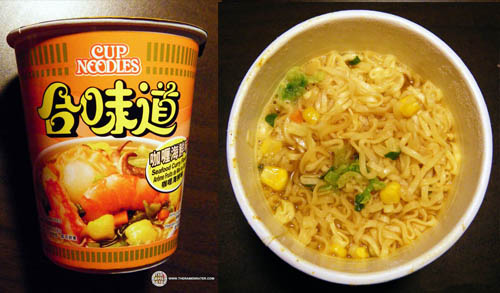 Since 1971, Nissin Cup Noodle has been synonymous with… Well, noodles in a cup! The noodles come out just perfectly in these. Not only that, there are copious amounts of veggies and seafood. Then there's the flavor – a really nice Japanese curry with seafood notes – great stuff! This is it's second year appearing in this spot. Original review here
#8: Paldo Kokomen Spicy Chicken Cup – South Korea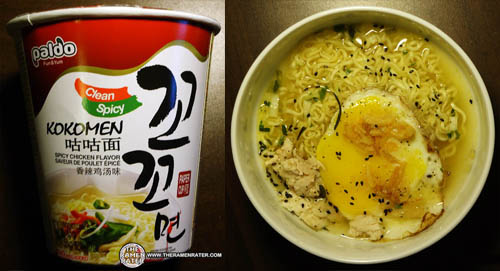 This is the third list this year that Paldo Kokomen has appeared on. The broth has such a great melding of the heat of jalapeno pepper and the flavor of chicken. The noodles are very good and the bits of chicken and vegetables are top notch. Dropped from 5th to 8th. Original review here
#7: Nissin Cup Noodle Chili Tomato – Japan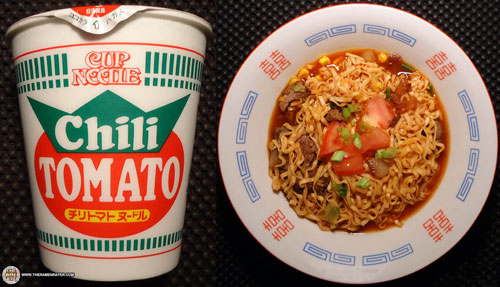 The noodles were broad and flat and had a very satisfying texture and feel to them; not bad at all. The broth has a nice tomato taste and lots of flavor. Bits of meat and veggies are throughout and make it a very hearty cup of noodles. Original review here
#6: GaGa Mi Instan Cup Milk Chicken Soup – Indonesia
The noodles are thin and light – they hydrated perfectly and have a gentle chew. The broth is fantastic – it's a creamy flavor full of chicken goodness, some onion hints, and a slight spiciness. Original review here
#5: Mamee Chef Creamy Tom Yam Flavour – Malaysia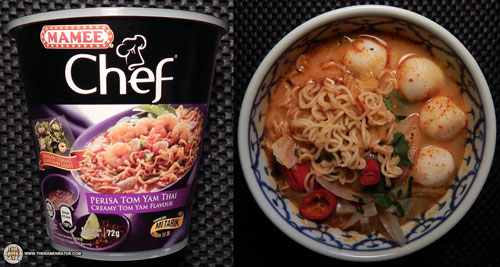 The noodles are just right – nicely cooked and gorged on the broth. The broth is the real star in this one – nice and strong citrus and spicy flavors abound and it has such a nice color to it. The garnish of vegetables and shrimp come out very nicely – the veggies are excellent as is the shrimp. Truly an excellent cup of noodles. Original review here
#4: Eat & Go Rendang Beef Flavour Fried Instant Noodle – Indonesia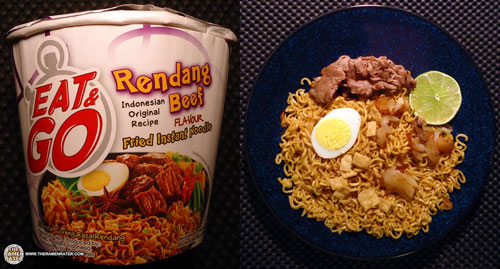 The noodles come out nice after steeping. They have a standard gauge and good cgewiness. The flavor is great – sweet. spicy and beefy! Excellent stuff – and if it wasn't good enough already, the garnish adds a really good finish to things. This was a real treat to enjoy. Original review here
#3: Nongshim Shin Black Spicy Pot-au-feu Flavor Premium Noodle Soup – United States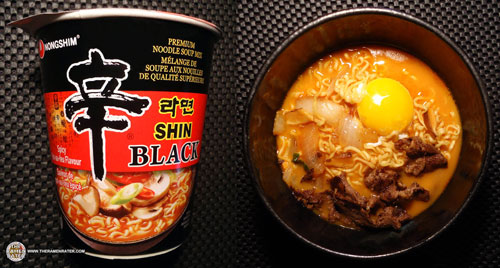 First, Nongshim made Shin Ramyun which is still incredibly popular. Then they upgraded and came out with Shin Ramyun Black. Finally, Shin Black has made it into a cup – and it's really good! Rich beef flavor and real beef along with thick ramyun noodles. Premium stuff! Last year, I featured the version made in South Korea and this year we have the one made in the United States. Second year at #3. Original review here
#2: Mamee Mie Goreng Indonesia Spicy Sambal Flavour – Malaysia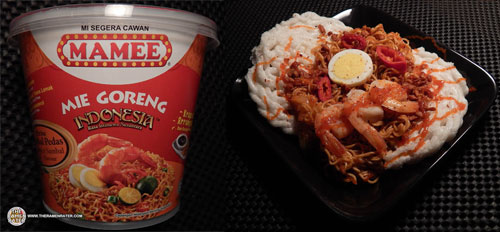 The noodles came out so nicely – they have a great character of chew and whilst not in a broth, they're not dry after being drained. The flavor is wonderful – spicy and tasty with that sweet-hot kick I love about mie goreng. The crunchy bits rounds everything out soundly. Original review here
#1: Mamee Chef Curry Laksa Flavour – Malaysia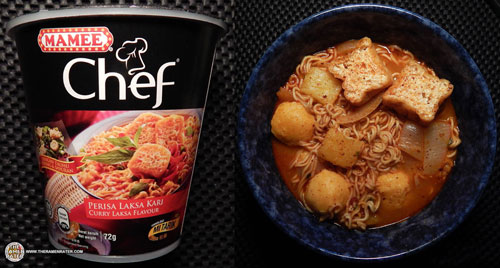 There are some flavors erupting from Malaysia that are just fantastic and this instant noodle cup exudes them like a rock star. The noodles came out excellent – pretty much identical to the packaged version. The broth and garnish as well were great – rich curry flavor and premium garnishes including little tofu puff bits and pepper. I can definitely say this is the best instant cup I've ever had. Original review here
Products cooked according to package instructions. Product reviews done prior to adding any additional ingredients.