Bowls of noodles. They're made all around the world and are a great option for those with access to boiling water and are 'on the go.' Some are basic and have very little imagination to them or perks, while others are really full meals that include meat and vegetables, seafood and other niceties. I've review 1,410 different noodle varieties and of those, many have been bowls. Here's a list of the best, most memorable bowls I've come across is my adventure in tasting.
#10 – Nissin Demae Iccho Instant Noodle With Soup Base XO Sauce Seafood Flavour – Hong Kong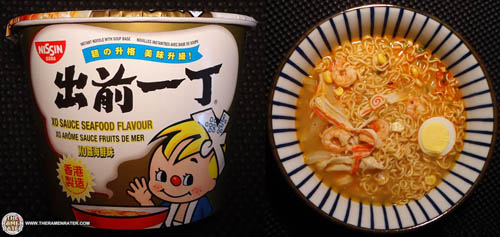 The noodles in this one feature a familiar gauge and texture, however the broth is pretty stellar. It's got a rich and hearty seafood flavor, and is augmented with a goodly amount of vegetable bits and lots of little dehydrated narutomaki. Original review here
#9 – Samyang Foods Ganjjampong – South Korea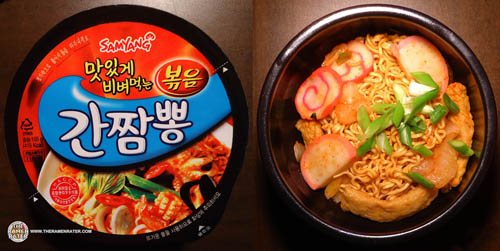 This is what you call a 'stir noodle." The noodles steep in the bowl, are drained, and then a spicy seafood sauce is added. With some stirring, you have a really delicious and spicy melange of excellence. Original review here
#8 – Nissin King Spa王 (Spa Oh) Tarako Spaghetti – Japan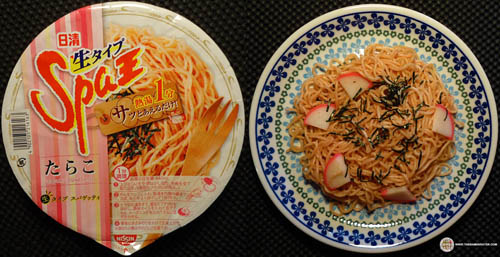 Here's another one where the liquid is drained off. Tarako is a fish roe based sauce used in Japanese pasta dishes. The flavor is very good and the noodles came out just right. The seaweed bits go very nicely as well. Original review here
#7 – Nongshim Chapagetti Roasted Chajang Noodle – United States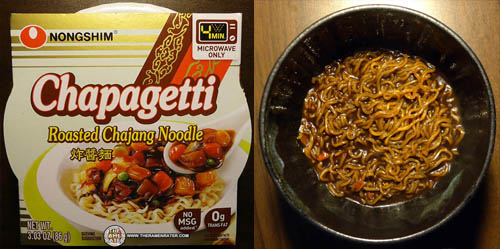 Although originating in South Korea, Nongshim now makes these in Southern California. Chajang is a traditional Chinese black bean sauce that is wonderful with noodles and the nice part with this particular variety is that it's the first I've seen in a bowl. What's more, it's easy to make and has excellent hearty flavor as well as great noodles. Original review here
#6 – Paldo Kokomen Spicy Chicken Flavor King Cup – South Korea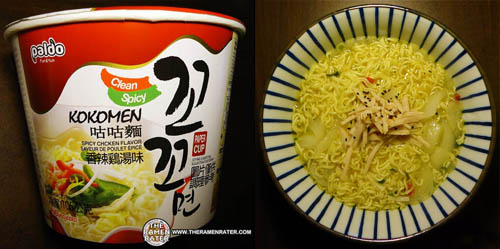 Kokomen is a South Korean ramyun with a light or white broth. It's got a chicken and jalapeno kind of flavor that's really quite excellent. The translation from pack to bowl is exemplary, losing none of the quality. Original review here
#5 – Acecook Comet Mori Yukino Tan-tan Men – Japan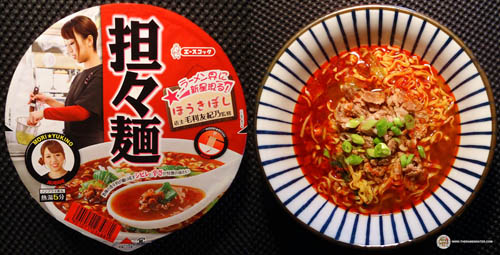 This stuff is very red! The noodles are broad and flat. They have a very nice chew to them and are of a premium type. The broth is very rich and oily. It has a strong spiciness and is almost thick – but not in a bad way. A rich pork flavor abounds. The veggies and other bits hydrated quite nicely. Original review here
#4: Unif Man Han Feast Sichuan Chili Eel Flavor Instant Noodle – Taiwan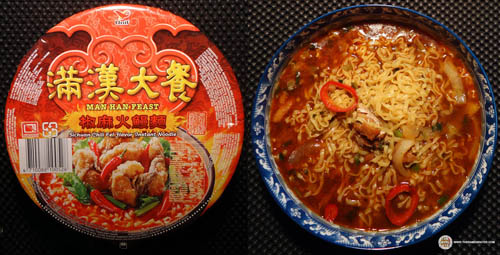 The noodles are flat and broad. They have a nice quality to them; not too chewy but very good for a bowl noodle. The broth is rich with a good spiciness. The added bonus with this is the eel – it's really good! Everything is rich and hearty and it's definitely a feast to behold and consume. Original review here
#3 – Maruchan Midori No Tanuki Instant Soba Bowl – Japan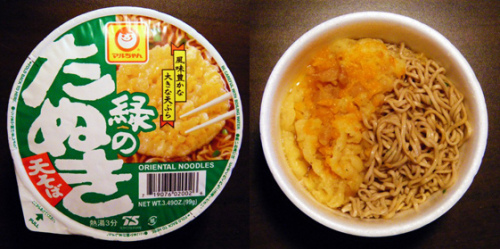 This is a seriously excellent bowl of noodles. The buckwheat noodles have a delicate crumble that works so well here and the broth is nice and rich. The disk of tempura is a real treat. Original review here
#2 – Plats Du Chef Cuisine Adventures Chicken Phở Soup – Canada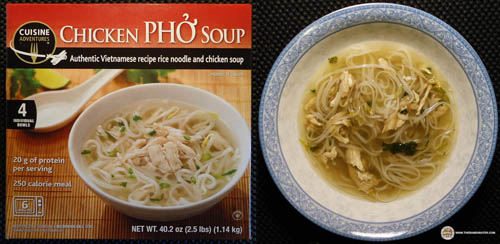 I have to say this was a great surprise. I have had a throng of horrible Canadian instant noodles – in cups, bowls, packs – just horrible. This one is a diamond in the rough. It includes excellent rice noodles, a very tasty pho broth and to top it off, it's got real chicken! This is a bowl to behold. Original review here
#1 – Nissin Raoh Rich Soy Sauce Flavor – Japan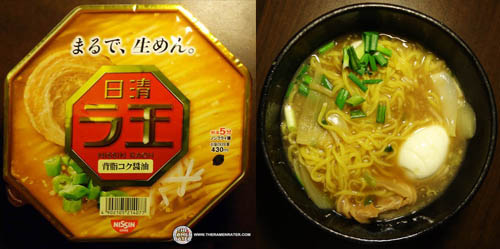 Back again in the top spot is Raoh. The noodles and broth play so nicely together and the pork is quite good. A bowl of noodles to really enjoy by candlelight. Original review here
Products cooked according to package instructions. Product reviews done prior to adding any additional ingredients.