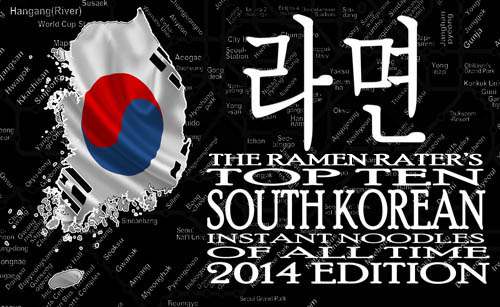 It's no secret that I eat a lot of instant noodles. Last year alone, I did 320 new reviews! I'm often asked, "when you aren't reviewing, what instant noodles do you like to eat?" South Korean ramyun is the answer. In 1963, instant noodles were first introduced to South Korea as 'ramyun.' People were a little confused at first; they thought it was a textile! They also weren't super keen on it being chicken flavored; South Koreans prefer rich beef flavors as opposed to lighter poultry tastes. With a little tweaking, the spicy rich beef noodles synonymous with ramyun were born.  The thick noodles, rich broth and spiciness keep me coming back for more. This list contains my favorites from the 1272 reviews I've done thus far. They are all made in South Korea, and many will be hard to find in the United States, if not impossible. With that, here's my list.
#10: Paldo Cucumber Bibim Men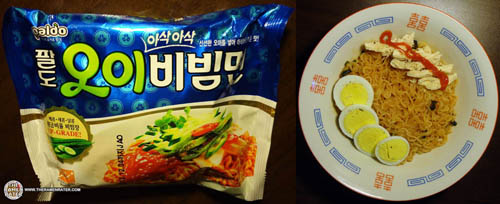 Regular Bibim Men is quite good, but this has a little extra something. It is a cold variety, great for the summer months and delivers a spiciness and slight sweetness. The cucumber bits hydrate and end up crunchy and refreshing. Original review here
#9: Ottogi Bekse Curry Myon
I'm a big fan of curries from all over the world.  We start with thick ramyun noodles. The broth is rich and luxuriant with a nice deep curry flavor. The little potato pieces (a rarity in the instant noodle realm) are very welcome and give it a little extra comfort food appeal. Original review here
#8: Paldo Namja Ramyun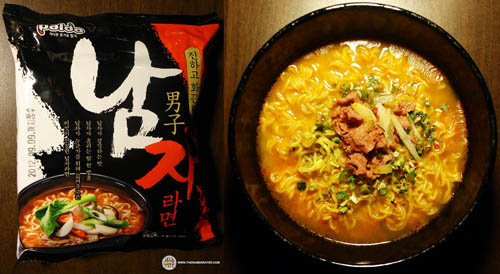 A spicy premium ramyun variety. The noodles are thick and chewy and the broth has beef, chicken and garlic components. Namja translates to "men's" or "guy's." Strong stuff and quite good. Original review here
#7: Samyang Foods Buldalk Bokkeummyeon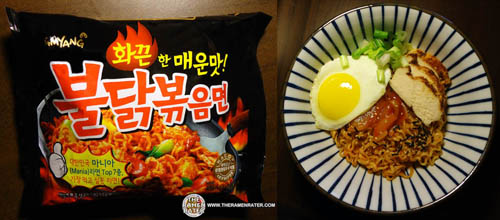 This spicy fried chicken flavored broth-free variety means business! It's on the Top Ten Spiciest list from 2013 and it really packs a punch! Great noodles and great flavor. Comes with sesame seeds and seaweed as a garnish. Original review here
#6: Paldo Rabokki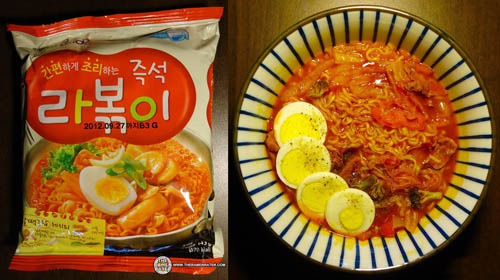 Rabokki is a cross between ramyun and ttebokki. Ttebokki is a populat dish which features tube shaped chewy pasta made from rice and usually a thick spicy sauce. Basically, this is ramyun with a ttebokki sauce – and it's really good! Wish they'd bring this one to the United States! Original review here
#5: HoMyeonDang Premium Noodle House Crab Jjampong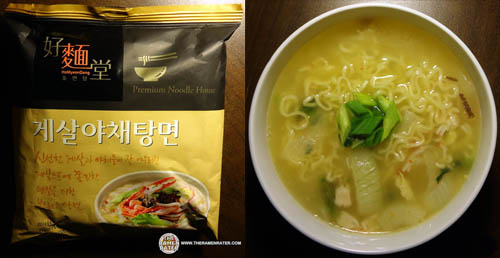 This is a very premium and fancy variety. The noodles are very good with a premium feel to them. The broth has a rich crab flavor augmented with a little sesame oil which gives it a little extra heartiness. The vegetable and crab piece mix rounds it out masterfully. Original review here
#4: Paldo Kko Kko Myun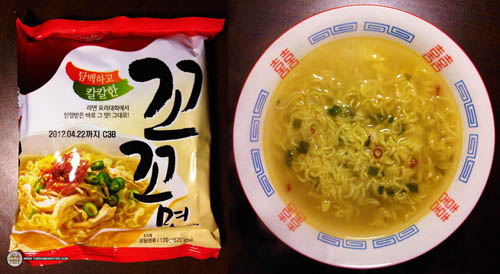 This one is like a bowl of candy to me. We start with nice quality noodles, and then the broth takes over. The broth has a kind of chicken and jalapeno flavor to it. The flavors play off of each other quite nicely and deliver both a strong bite as well as a mellow comfort food flavor in one bowl. The vegetable packet includes little chicken pieces. Original review here
#3: Paldo Cheese Noodle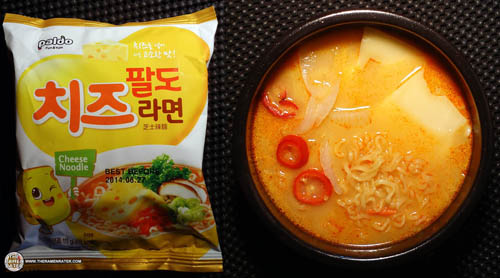 I really like cheese added to ramyun. This one already has a cheese flavor packet with it – perfect! It's got a spicy broth which is pretty common of South Korean instant ramyun, but once you add the cheese powder packet, the broth takes on a different tack. It softens the blow of the heat yet maintains a balance where the one doesn't completely overwhelm the other. Original review here
#2: Samyang Foods Baked Noodle Maesaengyitangmyun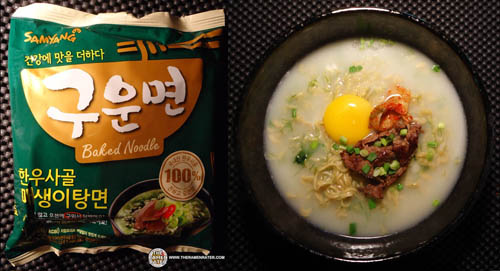 Samyang Foods celebrated it's 50th anniversary in 2013 – they originally introduced ramyun to South Korea in 1963 (people originally thought it was a textile). They decided to make a new baked noodle line for 2013 as something new. The result is a rich creamy broth with a twist. Maesaengyi is almost like a woven seaweed thread. It is fine and wispy and breaks apart in the broth and gives the broth an added 'from the sea' kind of taste, slightly reminiscent of a chowder. The baked noodles smell and taste quite nice. Original review here
#1 Nongshim Jinjja Jinjja Ramyun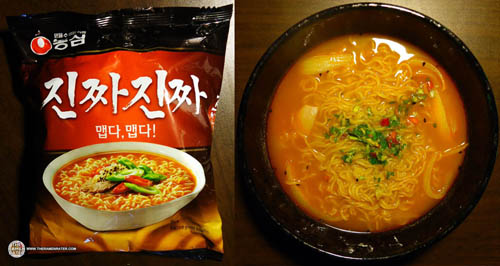 This is the fourth time in a different top ten list. Jinjja Jinjja is absolutely wonderful stuff. The noodles are quite nice to begin with – classic gauge and chew. The broth has a strong spiciness couples with a pork flavor. To finish things off, there's a packet of peanut powder with black sesame seeds. Jinjja Jinjja translates to Really Really – and I really really think this is excellent stuff! Original review here
Products cooked according to package instructions. Product reviews done prior to adding any additional ingredients.