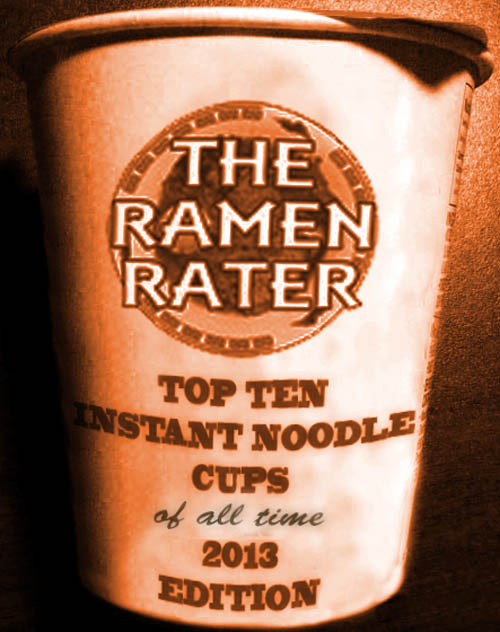 Cups were the second instant noodle innovation that really took the world by storm. Nissin founder Momofuku Ando of Japan decided that a cup would be a really handy way to have instant noodles on the go. His creation came to the market in 1971. Forty-two years later, the instant noodle landscape is filled with many different cup designs and contents – some all inclusive only needing hot water,m and some requiring a little more with packets – and some even with forks! Of all the varieties I've tried to date, here are my favorite ten.
#10: Pot Noodle Bombay Bad Boy Flavour – United Kingdom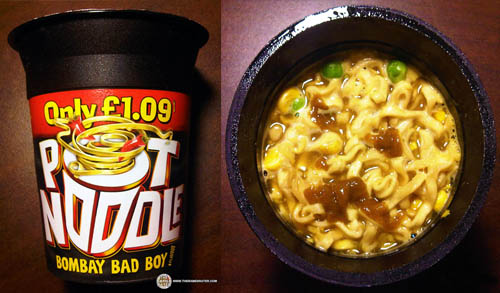 Pot Noodle is a UK company whose plastic cups are things of legend. Their myriad of interesting flavors are always fascinating, with such greats as Sticky Rib, Jamaican Jerk and now Piri Piri. Bombay Bad boy has a nice spiciness to it from a little supplied packet. These don't have so much of a broth, but more of a sauce or gravy. Original review here
#9: Nissin Cup Noodle Seafood Curry – Hong Kong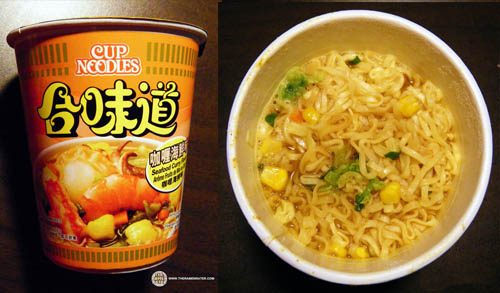 Since 1971, Nissin Cup Noodle has been synonymous with… Well, noodles in a cup! The noodles come out just perfectly in these. Not only that, there are copious amounts of veggies and seafood. Then there's the flavor – a really nice Japanese curry with seafood notes – great stuff! Original review here
#8: Paldo Gomtang – South Korea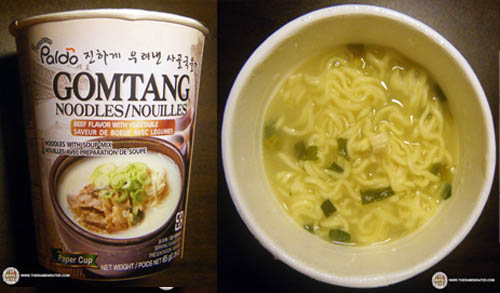 Gomtang (pronouced gohm-tahng) is a traditional South Korean soup made with brisket or oxtail. It has a rich, hearty taste that will warm your bones on a wintry day. This one has such a warm and creamy flavor and the noodles are nice and full in the ramyun style. Original review here
#7: Eat & Go    Spicy Chicken Mi Instan Cup – Indonesia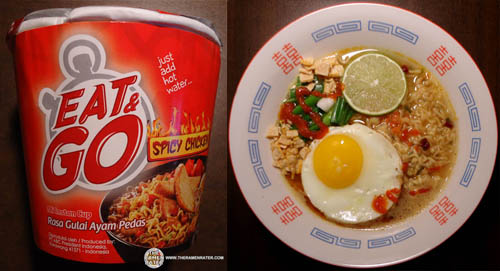 I only just had this one recently and was immediately enthralled. Contains five different seasoning packets which provide chili powder, veggies, seasoned oil and even a packet of tofu chips! Plus, you get a fork. Pure deliciousness! Original review here
#6: Ottogi Bekse Curry Myon Cup – South Korea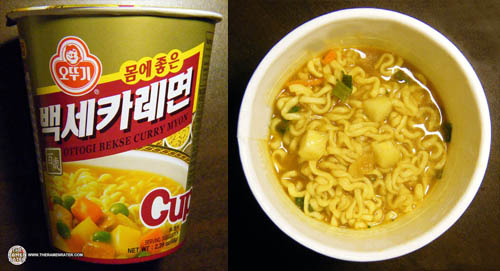 This little cup has some wonderful attributes. The seasoning and noodles end up nicely – the broth is thick and has a strong curry flavor and a nice spiciness. What was also very memorable was that there were potatoes in there – the only time I've seen potatoes in an instant noodle. A true friend for the curry fanatic! Original review here
#5: Paldo Kokomen Spicy Chicken Cup – South Korea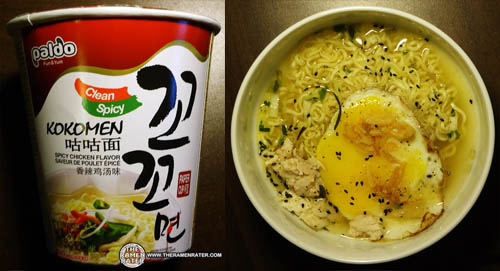 This is the third list this year that Paldo Kokomen has appeared on. The broth has such a great melding of the heat of jalapeno pepper and the flavor of chicken. The noodles are very good and the bits of chicken and vegetables are top notch. Original review here
#4: Seven & I Shoyu Noodle – Japan
Yes – they have 7-11 convenience store in Japan! With a great flavor and lots of vegetables and seafood, this is really a memorable cup. Strong soy sauce flavor and perfectly hydrated bits and noodles make this an all time favorite of mine. Original review here
#3: Nongshim Shin Ramyun Black Spicy Beef Cup – South Korea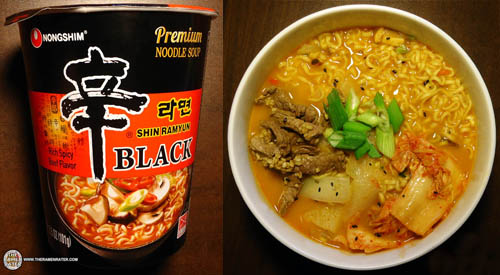 First, Nongshim made Shin Ramyun which is still incredibly popular. Then they upgraded and came out with Shin Ramyun Black. Finally, Shin Black has made it into a cup – and it's really good! Rich beef flavor and real beef along with thick ramyun noodles. Premium stuff! NOTE: Previously, this was marked as being from the United States. This one shown here was in fact manufactured in South Korea. I will be reviewing the one made in the United States at Nongshim America soon.  Original review here
#2: Nissin GooTa Demi Hamburg-Men – Japan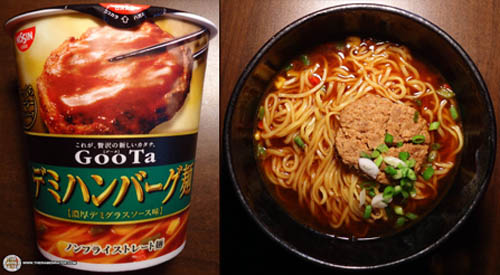 Another fairly recent discovery. GooTa is a high end offering from Nissin with premium ingredients. Excellent noodles, a beef and tomato inspired broth, veggies like corn and then the topper – a dehydrated hamburger patty. No joke! What's better than the novelty of the hamburger is that it works so well with the noodles and broth. Wow. Original review here
#1: Indomie Mi Goreng Instant Cup Noodles – Indonesia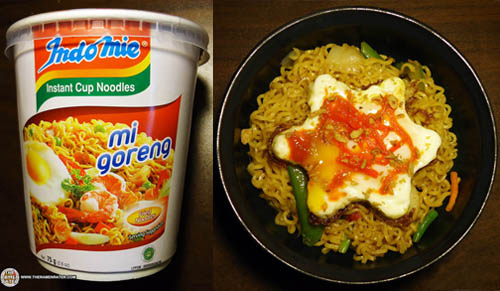 Indomie's Mi Goreng was a variety I was enjoying long before becoming The Ramen Rater. Quality noodles coated in a spicy and sweet combination of flavors that never get old. The way you do it is you add the boiling water, steep for a few minutes, then use the supplied plastic lid which has holes to drain it. Just like the pack version, it comes with all of the standard flavor packets you're used to and comes out just right. Original review here
Products cooked according to package instructions. Product reviews done prior to adding any additional ingredients.