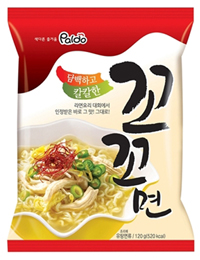 I've heard now from two separate sources that this Kkokkomyeon stuff is really popular and is going to be a really big deal when it comes to the USA. Both a seller of instant noodles alluded to it as well as a mention by name by the lady at the Kitty House at 99 Ranch Market (they sell Hello Kitty stuff there).
It has been named the business success of the year in Korea – beating out the iPad 2! Pretty amazing that noodles beat out Steve Jobs' last hurrah.  Here are some articles about this stuff. Rest assured that as soon as I can get my mitts on some of these noodles, a very in-depth and detailed review will be found here.  Hey look!!! I just looked online and found you can get them off of Amazon – look here and here.
The Korea Times – 'Kkokkomyeon' to be exported to 20 nations
Work'n'Play – This Year's 10 Most Sought Out Brands In Korea
The Chosunilbo – Instant Noodles Voted Business Success of the Year
Products cooked according to package instructions. Product reviews done prior to adding any additional ingredients.