So these instant noodles are very prevalent in this area and I imagine easily procured anywhere in the USA. This is Nongshim Shin Ramyun Gourmet Spicy flavor and it was purchased at a regular grocery store.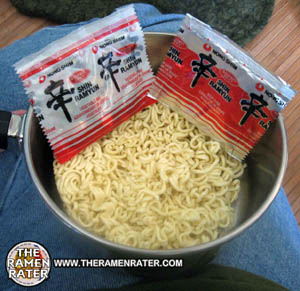 You'll notice the ramen cake is in a nice round shape as if Nong Shim had assumed I was ready to use one of my instant ramen pots to cook it! That was enjoyable. You'll also notice that these are not your typical noodles, but wider. This variety is known as Udon. They're usually a bit chewier too in instant noodle presentation. There are two packets included in this package: dehydrated vegetables and soup base.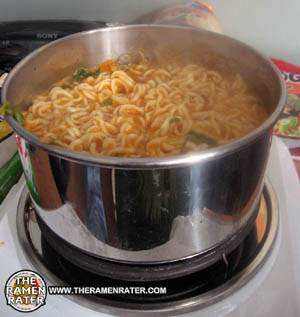 All right! Let's get it on! I used enough water to cause the Udon cake to float and then put the seasonings on top. After a few minutes, my pot was gurgling a somewhat traditional tune and in about three minutes after the boiling song began, the noodles were finished. One thing I've noticed with this particular variety is foaming. When the noodles boil, they create foam. This variety creates a lot of it, so keeping a watchful eye and monitoring temperature as well as good stirring technique is recommended.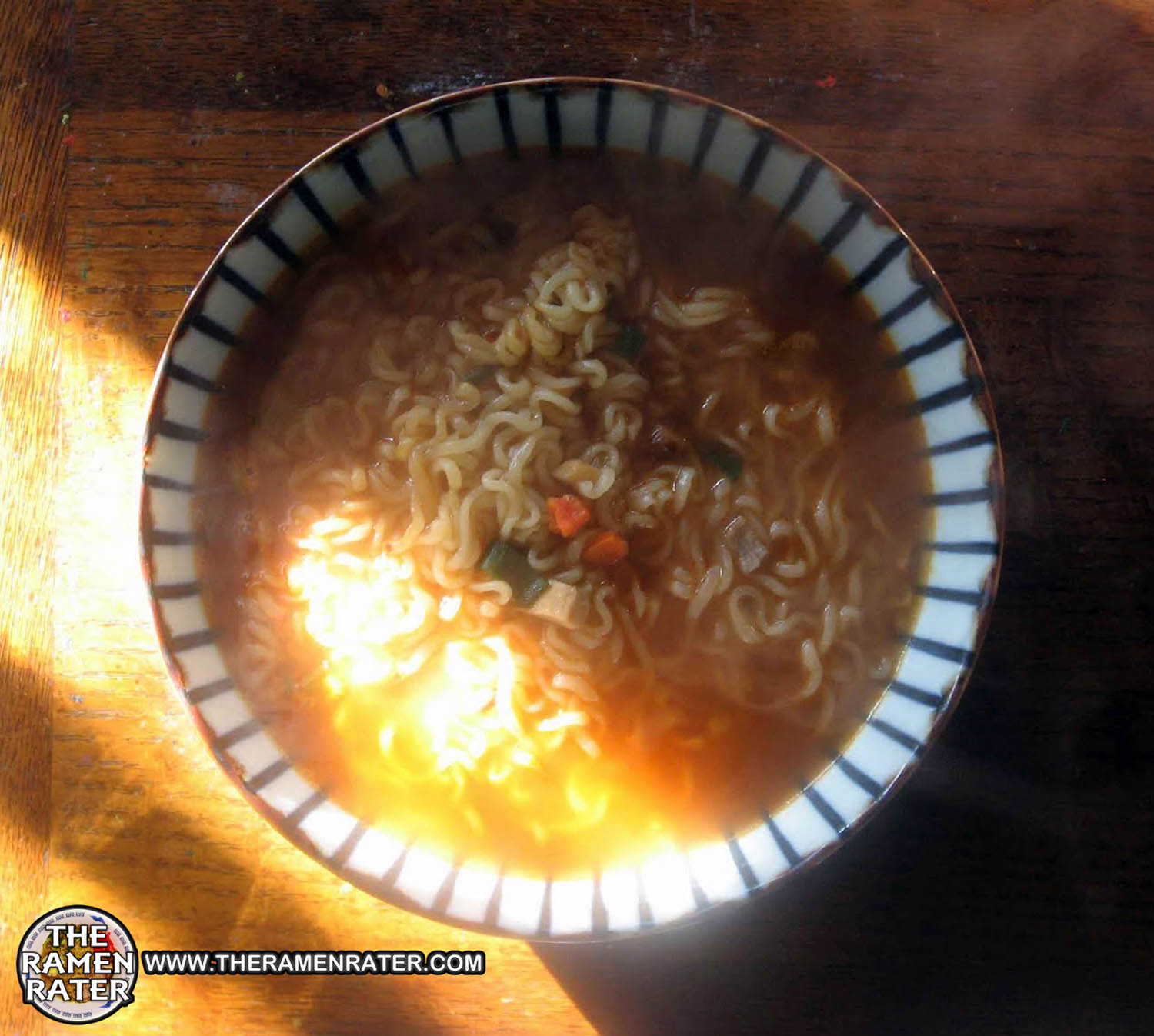 Here is the finished product ready for review and rating (click image to enlarge). The morning sun was glaring through the window and offered itself to the instant ramen noodles. I am eating the noodles now as I believe that the review/rating loses something when results come from memory.
The soup itself is very flavorful and spicy. Initially with a hot spiciness that the palate becomes accustomed to. It is very salty – definitely a red flag for those with concerns regarding their sodium intake. Noodles are somewhat spongy yet slightly more robust and chewier than regular style instant noodles. Finally, the vegetables are pretty good and complement the bowl very nicely. This reminds me of a dish I used to prepare in my younger years – I would take a can of Campbell's Vegetable soup, a cake of instant ramen noodles and cook the noodles in the soup. Very similar flavor although my recipe lacked the bold spiciness of Shin Ramyun Gourmet Spicy.
I give these noodles a three out of five stars rating. More packets would be nice and I think it was a little too salty. Otherwise it was an interesting bowl of noodles.[AMAZONPRODUCTS asin="B000LQLV7E"]
Products cooked according to package instructions. Product reviews done prior to adding any additional ingredients.